Custom folded hang tags are kind of swing tags folded like brochures in center with brand logos, which supply much space to print and boost sales promotion. The folded hang tags have several materials for you. Such as paper, PVC, leather. But paper is the common material. And we are skillful clothing labels make and supplier in China. So you can wholesale our custom hang tags at your needs. In addition, any color, type, size is available. And you can customize the recycled hang tags for your fashion brand.
How to use the folded hang tags?
In general, the folded hang tags are folded down in the middle. And there is a rope hole at the top corner. But you can also customize the position of folding and punching by yourself. Besides, our folding tag will use the middle as a reference. After folding, we will divide the original tag into 2 connected parts. Then, there will be 4 parts on the label to print product information. Of course, you can add product printing information on both exterior and interior.
First, you can display your brand logo prominently on the front. Second, add some less important information such as maintenance and precautions inside. Finally, you can show the price or size of the product on the back. So, compared with traditional labels, the tags offer more space to store information.
Images of the folded hang tags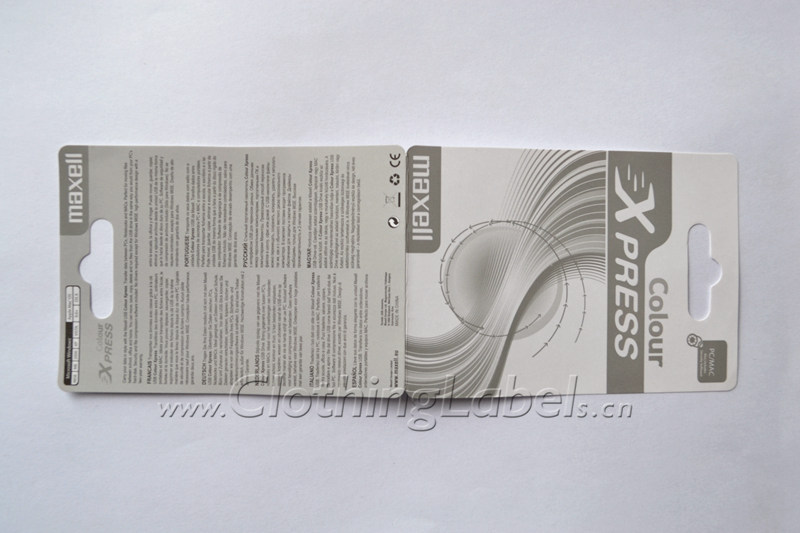 Marketing use for the folded hang tags
As we all know, hang tags are a necessary decoration for clothing, bags, shoes, hats, and others. But, almost any product will use a tag to indicate its appearance. Thus, the folding tag is undoubtedly a good choice. Because it can print more information. As a result, sellers have plenty of space to advertise their products. Also, customers can print promotional messages on the tag. While you can print QR codes to promote your website and brand.
Applications
The folded hang tags are especially suitable for clothing and other products. At the same time, it is ideal for all kinds of promotional activities. And it increasingly has wide use in the daily label. Such as food labels, drug labels, electronic product labels, and household commodity labels. And small size can cover a huge amount of information. For example, the registered trademark reflected by folding; Up to nine layers of color data will help prevent counterfeiting. Therefore, they are an ideal tool for promotional promotion. And we here have different colored hot stamping for your reference.
FAQs of folded hang tags
What logo style is available?
–You can print, raise, engrave, stamping gold/silver/bronze, UV the logo.
What is the shipping time?
–3-6 days by express.
What is the material?
–Coated paper, black card, white card, tracing paper, special paper, PVC, leather.
Can we match the eyelet and string on it?
–Yes. you can add an eyelet, hang tag string, or safety pin on it, too.
Quotation
Feel free to contact us by email, whatsapp, or online live chat to get more information about the price.
The minimum quantity: MOQ is 100pcs.
Please send us your logo or your design file if you have one. But if not, we can offer free design for you.
Click here to view hang tags photo gallery.