Custom bottle neck tags are hang tags for bottles with paper, metal, leather, plastic materials, which are ideal for gift/wine bottles, product promotion, etc. We make and supply professional bottle neck tags for customers all over the world. You can customize size/content/add QR code/logo, etc. Customizing a unique and novel bottle neck hang tag can help customers understand your product faster. Careful design, tag material, and product copywriting will also become one of the factors that determine your product sales.
We have more than ten years of experience to make and design custom clothing labels and tags. And we can design various bottle neck tags for you free of charge. The surface of the tag can be hot-stamped gold and silver. And the logo can be debossed and 3D embossed. Then, the surface can be hollowed out and engraved with textures. Want a matte or shiny texture? Yes, let's do it! any shape and shape is achievable with us.
What are the commonly used materials for the bottle neck tags?
White cardboard

,

black cardboard

,

coated paper

(commonly used) with lamination, and various processes;

Special paper

; it is suitable for some high-end products;

PVC

material; waterproof and durable (color printing);
Leather: PU leather

,

genuine leather (engraving, printing);

Acrylic

,

drop plastic

, etc.;

Metal plate

: aluminum, zinc alloy, copper, stainless steel, etc.;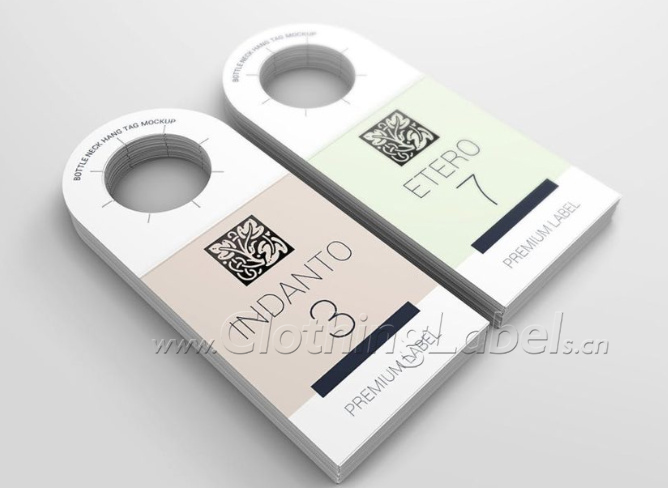 Details of the bottle neck tags
Material: special paper, PVC, white card, coated paper, black cardboard, leather, metal, PU, alloy. Textile materials like canvas, silk, chemical fiber, cotton, etc.
Printing: offset printing, color printing, silk screen printing, thermal transfer printing, etc;
How to use: tag type + rope type + chain;
Process: hot stamping, UV, embossing, die-cutting; engraving, laser printing, epoxy painting; electroplating;

Where can bottle hang tags be used?
Various types of wine bottles; Like beer, liquor, Vodka, Red Wine, Whiskey, Brandy, Champagne, Rhum, and Tequila bottles;
Gift box bottle;
Drink bottle;
Red and white wine bottles;
Flower shop;
Promotional items;
Toiletries;
Clothing; bags;
Toy;
Food bottles;
Reception gifts;
Souvenirs from tourist areas;

Paper bottle neck hang tags – common specification reference
Size 5*8cm, aperture 2.5-2.9cm is suitable for 100ml bottle;
The size 7*10cm, aperture 3-3.5cm is perfect for 200-480ml bottles;
Size 8*13cm, aperture 3.6-4.5cm is suitable for 500ml bottle;
Size 8*18cm, aperture 4.5cm or more, suits 700ml-1L bottles;
3 main types of bottle neck tags
Paper bottle neck tags
Paper bottle hang tags are the common tag for wine bottles. In general, we use paper material, which is convenient for printing and cost-effective. Generally, we will dig a large round hole at the top of the paper tag. Then, to fit the neck of the bottle, we will bend it over and cut out big round holes. The round hole is larger than the neck of the wine bottle and is movable at will. Sometimes, hangtag ropes, ribbons, or chains can be used to tie the bottleneck.
Metal bottle neck tags
The main materials of metal bottle neck tags are copper, iron, zinc alloy, stainless steel, etc. In addition, they are waterproof, durable, and wear-resistant. Moreover, the metal bottle tags have a more metallic texture. That is very suitable for brands that need high-end and luxury. Especially alcohol brands, such as champagne, whiskey, etc.
In addition to metal bottle hang tags, we can also customize metal wine labels, metal logo labels, metal medals, metal nameplates, metal enamel badges, etc.
Leather bottle neck tags
Leather bottle neck tags are also great for bottlenecks. Some quality-oriented brands will very much prefer leather tag material. Especially men's brands, denim jackets, denim clothes, leather cases, leather bags, etc. Because leather hangtags look very high-end. Some leather goods brands, reception gifts, gift boxes, and bottles will also customize leather tags.
About color
Please send your logo design to determine the specific production plan. You can tell us the color you want. Then, we will make the most restored color tag for you based on the Pantone color. And the front and back of the paper tag can be printed in various colors. If it is a leather or metal hangtag, it is better to choose a printed color on one side. Of course, double-sided printing is always possible.
About size
Want a cheap or high-end luxury bottle neck tag? Just find us. Any hangtag you want can be customized here. You can provide your art files or logo files, and we will give you a free design. The size you want, please provide us. If not, no problem, please refer to the paper tag specifications above. Of course, we will also give appropriate advice. Even if you don't know anything about bottle tag design. We will make a one-of-a-kind tag for you at your request. Ready to get started? Please email us or add our WhatsApp for a custom quote. Our business manager will send you the details!
Do you know? The following can be customized
Tag hole shape;
Rounded corners;
QR code; size; color;
Tag ropes: cotton, silk tape, taffeta, wax rope, nylon rope, etc;
Logo, pattern, back content;
Secondary card content;
How do connect bottle neck tags with bottles?
Paper bottle neck tags with big round holes go through the bottle and get stuck on the neck.
Leather bottle neck tags use snap buttons to fits snugly on the bottleneck. Or use leather ropes or normal strings to hang the tag on the bottleneck.
Metal bottle neck tags use beaded or metal chains to hang them on the bottle.
Other fabric, plastic(PVC, Rubber, Silicone), or wood tags can use strings to connect them with bottles.
Quotation
The minimum quantity: our MOQ is 100pcs.
You can send us your logo or your design if you have one. If not, we can provide free design for you.
Please tell us the customized quantity, color, size, and logo pattern, and then we will give you the specific quotation(price).