Metal tags are clothing labels including aluminum, stainless steel, copper, brass, zinc alloy materials, we make blank or customized metal tags for brands. And all the tags can have engraved, 3D embossed, stamped, or laser cut logo on it. So, customizing your own personalized metal tags and nameplates with logos can enhance your brand image.
Features of custom metal tags
The surface is smooth and bright, and the hand feel is good;
It is sturdy and durable, featuring as waterproof, wear-resistant and corrosion-resistant;
There are different types to choose from. Such as:

aluminum tags

,

stainless steel tags

,

copper tags

,

brass tags

,

zinc alloy tags

. That will meet the customized needs of customers;
They have many crafts, such as

engraving

,

embossing

,

stamping

,

laser printing

,

epoxy painting

;
Any size, color, model is available;
Where are they mainly used?
Metal tags are not only ideal for clothing but also suitable for pants chains on jeans. As a metal accessory, it is an indispensable decorative element in clothing decoration.
Besides, metal tags are also ideal for bags, keychains, shoes, leather products, hat badges, hat clips, badges, medals, cufflinks, belts, metal pendants or tags, etc.
In addition, we offer various metal fittings and pendants. Such as metal D ring, metal buckle, metal snap hooks, metal eyelets, metal zipper puller & sliders. As a manufacturer and supplier of metal tags & labels, we will ship them at relatively competitive prices. And that will save your cost.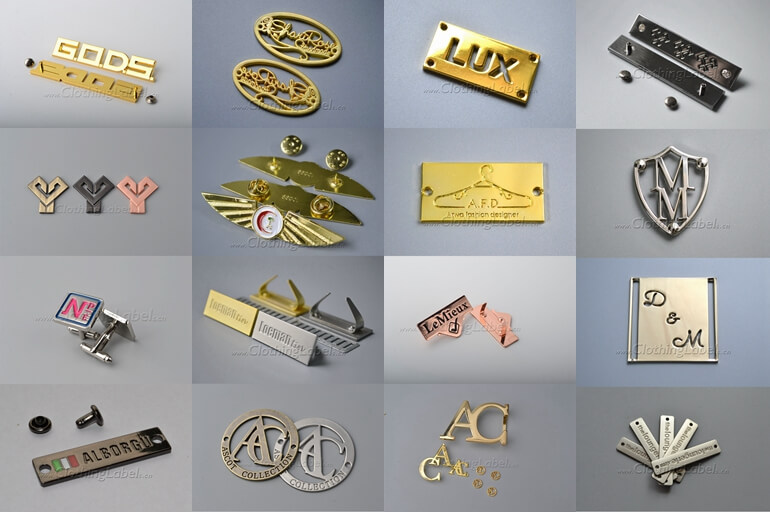 How many colors you can choose for metal tags?
There are many colors of metal tags. So, you can refer to our electroplating color and the samples on the website. Of course, we can also customize according to the color provided by the customer.
For more plating colors, please refer to the electroplating color for your reference.
What are the craftsmanship of logo?
Logo craftsmanship: engraving; embossing; hollow; the shape of the logo itself (letters/logo shape); ABS/fake diamond/pearl, laser printing, etc.
What are the fixing methods of metal tags?
Among them, the butterfly buckle/magnetic buckle/safety pin metal tags are basically used as a badge.
Types of metal tags
Blank metal tags
Blank metal tags mean that the surface has no engraved or printed pattern, logo, product information, etc. Its surface is clean and smooth. So, it applies to businesses that do not have a brand logo. Of course, this price is also the cheapest.
Zinc alloy tags
Zinc alloy is the most we do. First, the alloy brand process is pouring. That is to melt the raw materials and inject them into the mold, cooling, and forming. The post-processing process of the alloy tags is electroplating and painting.
Copper tags
Compared with zinc alloy, copper material is softer and thinner. And the thinnest thickness can be 1mm. But the thinner it is, the easier it is to scratch the skin. So we don't recommend making it too thin. In addition, it is durable and non-corrosive, not afraid of rain and sun, wear-resistant, and non-fading.
Aluminum tags
Aluminum is the one that we don't do much. Because the mold fee of aluminum tag & label is more expensive. In general, most of the lettering is printed on an aluminum plate. Aluminum cards are made in large blocks and then cut to size. In this case, the edge will not be plated with color. Besides, their edges are not smooth either. If additional polishing is required, the price will be a bit more expensive. Then, we can paint various colors on the aluminum plate. But, if required, the paint can also be sprayed to the side.
Stainless steel tags
Stainless steel tags have a long service life and are not easy to break. Meanwhile, it is light in texture and easy to carry. They are perfect to make custom engraving ID tags for dog pets, keychains, beautiful decorations, etc. At the same time, you can customize unique steel tags for your needs as gifts for friends or family.
Brass tags
Brass tags have a classic look and many customers like their appearance. Because it looks so retro. And we supply brass id tags and brand logo tags. From which, you can add engraving and stamping logo on it. And we support orders in bulk and are available in many sizes and shapes.
Please provide the following information when placing an order or inquiry
-Logo file or art file (logo design): CDR, ESP, PDF, PSD, AI;
-Your product size, color;
-Order quantity;
-Sample or not;
-If you have no logo file, just pick some samples from our site similar to your needs. Then tell us your requests.
Quotation
1, Reference sample from here, metal labels' photo gallery or other places;
2, The minimum quantity: our MOQ is 100 pcs;
3, Email: [email protected];
4, WhatsApp: +8618143478283;
5, Tel: +8657188913839.