Custom jeans buttons and rivets are denim metal rivet buttons for clothing brands, materials have Zinc alloy, copper, aluminum, iron, and stainless steel. And we call them metal rivet buttons, and denim buttons, too. The jeans buttons and rivets are composed of the upper button and the lower nail. And we combine the two parts by knocking them together. Thus, they are great for thicker fabrics like denim.
We are a professional jeans buttons and rivets manufacturer and supplier. We provide them with various styles and high-quality materials. And we offer fine workmanship, high quality, and low price. Usually, the styles are plastic core buttons, movable buttons, hollow buttons, etc.
Their surface can have electroplating, oil injection, silk screen printing, laser, glue, etc. In order to play a better decorative role, we can add fake diamonds, laser sheets, milling patterns, etc. on the surface. So, it will look more beautiful this way. At present, the jean's buttons and rivets have many uses. Some casual clothing, or thicker fabrics, will also use I-buttons. Some are for decorative purposes, some are for practical purposes.
Materials
The main materials in denim buttons are copper, zinc alloy, iron, aluminum, etc. But, zinc alloys and copper are the most commonly used materials. The metal processing materials and colors used for the buttons are different. Then, they have bronze, antique bronze, etc.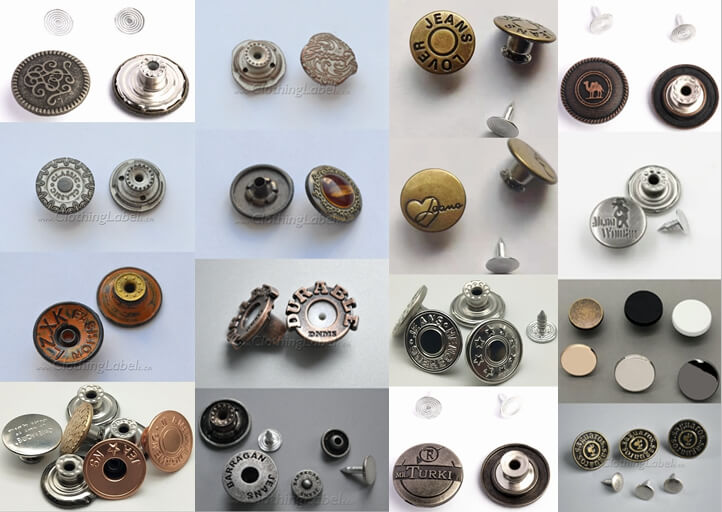 What's the difference between zinc alloys and copper jeans buttons and rivets?
First of all, zinc alloys are richer in craftsmanship. It can not only do round shapes but irregular shapes. The common shape of copper is mainly round.
Second, Zinc alloys are heavier and copper is lighter.
Third, the delivery time of copper button rivets is faster and their price is cheaper. Zinc alloy button rivets need to be molded. But, its delivery time is slightly longer. Also, the price is more expensive than copper.
However, what they have in common is that we can make a raised or debossed logo. Then, we can make electroplating for all of them. Besides, the color of the electroplating is similar.
Size of jeans buttons and rivets
The common size include: 10mm, 11.5mm, 12.5mm, 15mm, 17mm, 20mm, 25mm, etc. Some alloy denim buttons are relatively large, like 30mm. But copper or iron denim buttons are generally below 25mm.
Details of jeans buttons and rivets
Types: button accessories;
Colors: Gold, Silver, White, Black, Bronze, Cyan, Rose Gold, Gunmetal, Matte, Shiny, etc.
Shape: round, flat, heart shape, special shape, irregular shape, etc; Any shape is available.
Material: zinc alloy, copper, aluminum, iron, stainless steel;
Features: Hard texture, strong metallic feel; the product is not easy to rust; strong and durable;
Processes: electroplating, painting, lasering, silk printing, engraving, embossing, epoxy filling. etc;
Application: jeans, denim clothes, shoes, hats, cotton coats, shirts, suits, windbreakers, belts, backpacks, jackets, trousers, overalls, etc;
MOQ: 100pcs.
3 main types of jeans buttons and rivets
How to install it?
Nail through the fabric, button up the rivets, and hammer in. Don't use too much force, tap slowly. Pay special attention to the tight fit with the fabric.
Why do we need jeans buttons and rivets?
At the beginning of its establishment, gold miners liked jeans because of their wear-resistant properties. At that time, however, miners often complained that the jeans would be stretched open after wearing them for less than a day. Hence, people design these jeans rivets to strengthen the jeans. Prevent it from being easily burst. So, although sometimes you feel that they are a bit in the way, you really can't remove them. In fact, they are also good as decoration. And it's safer not to burst your jeans when squatting and exercising.
FAQS
What's wrong with the studs and buttons on the jeans?
If it is a rubber core button rivets, the problem may be the rubber core. If you use bad plastic as the core, it will not be able to withstand the pressure of the nails. And it will squeeze out. So if we pull hard, it will fall off. With good plastic, this will not happen. Then, another reason may be the shape of the rivet. Some rivets are pointed nails, and some are threaded screws. However, in general, we use more threaded screws.
2. What should I do if the color of the surface fades when jeans buttons and rivets are fastened to the clothes?
The surface of button rivets fading may have a relation to electroplating and painting. If you use poor electroplating, or products without oil sealing, the color will not last long. After oxidation in the air, the color will fade. It also falls off during friction. Good paint generally will not fade, poor paint will fade.
3. What should I do if the button rivets I ordered is rough?
In general. it is due to the surface treatment process of the factory. If the polishing is in place and the mold of the product opens well, we can avoid the problem.