There are different types of rivets, like blind rivets, solid rivets, tubular(hollow) rivets, split rivets, flat/pan/mushroom/countersunk/conical head rivets. In general, rivets are made of aluminum, stainless steel, iron, brass, copper in a cold heading machine. Because there are so many types of rivets and their application. Many people don't know much about them, especially beginners. If you are a beginner, then start with me to get the guide.
What is the rivets?
A rivet is a nail-shaped fastener used to connect two parts with a through-hole and a cap on one end. In riveting, the riveted parts are connected by their own deformation or interference. There are many kinds of custom rivets, and they are informal. In order to prevent corrosion and oxidation, we make a surface treat on rivets. And the usual ways are nickel/zinc plating, chrome plating, and painting.
What is the history of the different types of rivets?
The earliest rivets were small pegs made of wood or bone. And the earliest metal variants may be the ancestors of what we know as rivets. They are, without a doubt, the oldest known method of joining metals. Go back as far as the earliest use of malleable metals, e.g.: Bronze Age Egyptians held with rivets. After the Greeks cast large statues in bronze, they riveted the parts.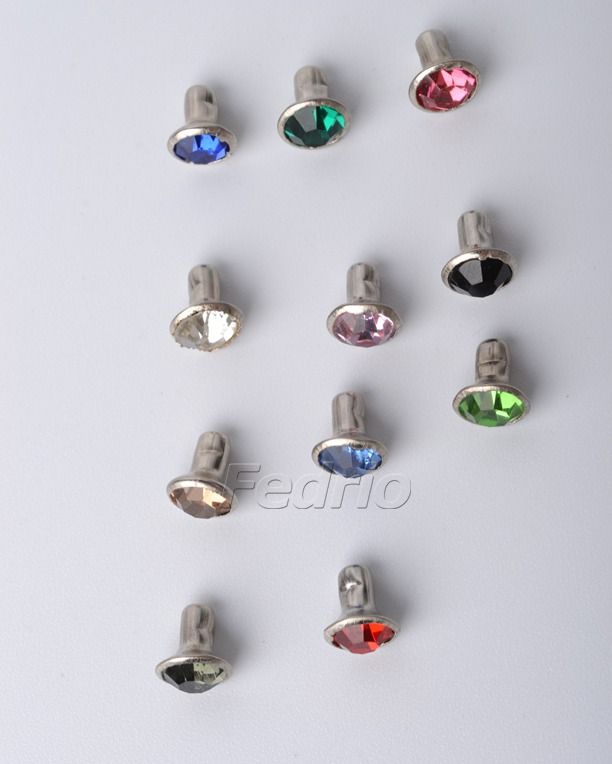 9 different types of rivets
Blind rivets
Blind rivets are hollow rivets, pop rivets, and closed rivets. After riveting, they have good sealing performance and will not leak. Blind rivets are fasteners for single-sided riveting. It is unlike ordinary ones. So, it does not require riveting from both sides of the connected parts.

Solid rivets
Solid rivets, as the name suggests, are all solid. In general, they are cylindrical. A solid rivet is a part that uses its own interference to connect the riveted part. Solid rivets use aluminum, copper, iron materials. According to the surface treatment method. They include white/blue zinc plating, color zinc plating, bright nickel plating, etc. And according to the types of the head, it has a flat head, round head, countersunk head, etc.
Tubular(hollow) rivets
Tubular rivets are hollow or pipe-type rivets. They differ from hollow rivets commonly known as "eyelets". And a rod-shaped part with a cap at one end that penetrates behind the connected members. Then punch and press out the other end at the outer end of the rod to compress and fix the component.
Material
Carbon steel, stainless steel, copper, aluminum and alloys, etc.
Application
Precision instrumentation; mechanical hardware; electronic appliances; auto parts; lighting, etc.
Electroplating treatments
Pickling, white zinc plating, blue/white zinc plating, copper & silver plating, tin plating, nickel plating, etc.
Split rivets
Split rivets also call bifurcated rivets. A split rivet means that its body is split into two parts from opposite sides. One part is forked and one part is solid with a head on top. Meanwhile, the surface can use electroplated, painted effects. The two split legs separate themselves to accomplish their mission when installed. This will make the item stronger. Therefore, it is very suitable for use in belts, car seats, and other life scenes.
Flat head rivets
Flathead rivets are the most widely used riveting fasteners. They are non-removable. Due to their large heads, they are resistant to corrosion. So once fixed, he can be flush with the surface of the object. For the pursuit of beautiful and neat scenes, using flat head rivets is a good choice.

Pan head rivets
Mushroom head rivets
Mushroom head rivets are also called semi-round head rivets. It means that the rivet head is a solid semicircle that resembles a mushroom shape. Then, the materials are mainly 304 stainless steel, aluminum alloy, etc. Besides, it is suitable for all kinds of luggage, leather goods, clothing, etc.! But, there are a variety of choices in material, color, and size.

Countersunk head rivets
Countersunk head rivet is a kind of riveting. And sunk the screw head fully or partially into the connected parts. Countersunk head rivets suit occasions where the strength requirements are not high. And the thread diameter is less than 10MM. Then, the screws are screwed in and fastened.

Conical head rivets
Conical head rivets mean that the head rivet resembles the shape of a cone. Then, the main materials are zinc alloy, stainless steel, copper, etc. Yet it has many other materials. In addition, it can decorate with pearl for clothing. Then, they are perfect for machinery fasteners, metal fittings, etc.

How to use the rivets?
A rivet is a nail-shaped object with a cap on one end. In riveting, the riveted parts are connected by their own deformation or interference. A few tools you need prepare are: rivets, a 3 mm round hole punch, and a rivet die.
Below we provide the steps of using common rivets:
On the surface to be bound, punch holes from the front with a round hole punch;
Put the long nail of the rivet on the base;
Put the objects to be bound on the spikes;
Install a short cap on the leaking long nail;
Align the short cap with the rivet die, and hit the die with a hammer. Pay attention to the strength to ensure that it is in place in one step.
The above are the steps of the rivet installation method. And they are relatively simple and easy to master. It has three steps: punching, binding, and forming. An entry-level method for installing rivets on soft objects. If you need to install rivets on hard objects or machinery, you need to use the tools for axillary installation.
What are rivets used for in daily life?
The early rivets used bone and wood rivets to connect some tools in daily life. Slowly, metal tools appeared. And people began to make metal special-shaped rivets to connect some metal tools. Today, aviation producing, shipbuilding, electronics fields use them.
Rivets are useful in today life. Now they are not only for the production of buildings but for clothing. Some clothes and bags will inlay some rivets, which are elegant and trendy. Rivets become popular. As in beach chairs, tents, luggage, aluminum boxes, shoes, umbrellas, etc. Then, it suits electronics, baby carriages, lamps, toys, hardware, etc.