Sock hanger is a plastic hook for retail displaying the socks, scarfs, caps, towels, gloves, and underwear, we custom sock hanger, sock hooks with logos. And it's materials are PP, PS, metal, stainless steel, etc. The hanger hook can be a non-slip sock clip or with clips and attach with a plastic fastener. We not only supply plastic hangers, but also wooden hangers in bulk and metal hangers. It is available in various designs, sizes, and colors.
We manufacture and wholesale plastic sock hanger, custom sock hang tag & labels, and plastic clothes hanger & tags. And we are a supplier and manufacture of custom hooks, hangers, and plastic socks bag packaging. All of them can print your logo on it. Meanwhile, it features smooth "teeth" that will avoid socks from slipping. But it will not damage the sock's fabrics. Because it has smooth "teeth". So, it can prevent the socks from slipping. But this will not damage the fabric of the socks. It has a low price and high quality. If you want to shop online, please visit the online site.
Our high-quality sock hanger adopts black or white plastic. And it will hold one pair of plastic socks packing. Besides, you can easily display socks or other merchandise in your fashion shop with our sock hooks. As one of the factories of sock hangers, it is ideal for displaying the socks, scarfs, caps, towels, gloves, shoes, etc. So, it can make full use of space to show the charm of these products. Come here to choose the right hangers for your fashion brand.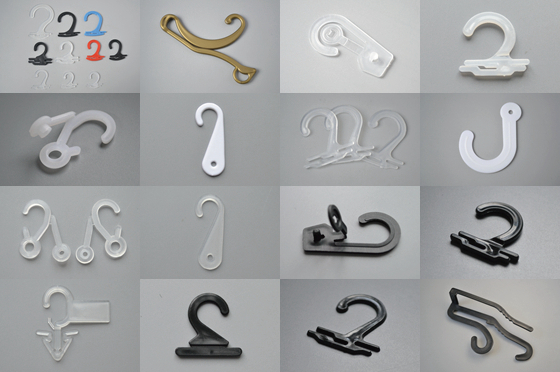 Details of sock hanger
Material: PP, PS, stainless steel, etc.
Style: at customers' request;
Size: we customize it at your request;
Color: white, black, transparent, semitransparent, or customize;
Thickness: as your requirement.
Uses: it is for hanging or drying socks, gloves, underwear, towels,other products, and clothesline for easy packaging.
How to use the plastic sock hanger?
First, we took off the hook of the sock. Use sock hooks to fix the position. Then, hook the thread that sews the two socks. Then start rotating the hook.
Second, rotate the sock hanger and the thread will continue to be fixed to the hook. Thus, it will make the thread tighter and tighter. After releasing the hook, the thread connecting the socks will become looser.
Third, we'd better use the top hook. The hook on the side is easy to be broken due to insufficient strength. Besides, you can use the side hook to loosen the thread. And then, use the upper hook to hook the thread.
Finally, use the harder hook above. After hooking the thread, rotate it. Then, you can easily break the seam and separate the two socks. No more biting with teeth, looking for scissors.
Quotation
Reference sample please view the sock hanger's photo gallery above.
The minimum quantity: our MOQ is 1000pcs.
Contact us by E-mail or WhatsApp