Acrylic hangers are made of crystal-clear acrylic with hook and clips for clothes organizer and wardrobe closet display, which is eco-friendly and recycled. So in a short period of time, they have become very popular. Because of its own dazzling features, it is quite popular among dealers. Then, the hangers use materials like aluminum, stainless steel, iron to enrich the styles. They are durable, highly transparent, and waterproof. So, it gives a luxury trendy look for garments. Besides, the hangers are perfect for retail coats, shirts, women's and men's stores, home parties, weddings, etc. Then, the clear shirts dress hanger with non-slip notches can use for showing ladies sling, shirts, dresses, etc.
The hangers touch smoothly without any sharp edges and burr. And the sling groove design can hang underwear and other clothes. Sometimes, the trousers hanger can choose high-quality metal clips. So, it will not leave marks and creases on the shoulders. Thus, it is very suitable for exquisite or luxury clothing. As a supplier of acrylic clothes hangers, we wholesale hangers and support featured customization. Any color or size is available for your choice.
Details of acrylic hangers
Process: engraving and coloring, glossy, cutting, ink printing, silk screen printing, laser engraving, punching;
Material: eco-friendly plastic PP; PMMA; stainless Steel;
Type: acrylic clothing hanger, acrylic pants hanger, broad shoulder acrylic hangers, etc;
Color: clear, gold, silver, transparent, white, black or available in customized colors, etc;
Shape: customized;
Logo: laser engrave, silk screen printing, customized customer's logo;
Application: clothing stores; hotels; shopping malls; wordrobe; closet, etc;
Best product types

Flat acrylic hanger;
Roundhead acrylic hanger;
Pointed acrylic hanger;
One-line pants hanger;
Moon bent pants hanger;
Double line pants hanger;
Acrylic hangers with or without clips;
What styles of hanger hooks are available?
According to their raw materials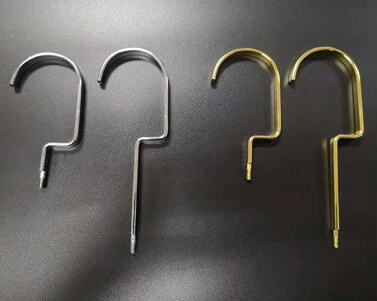 The common ones are iron hanger hooks, copper hanger hooks, aluminum hanger hooks, stainless steel hanger hooks, etc.
According to its electroplating material

Such as galvanized hanger hook, nickel-plated hanger hook, chrome-plated hanger hook, imitation gold-plated hanger hook, rose gold-plated hanger hook, etc.
According to its appearance
Why choose our acrylic hangers in 2021?
An anti-slip groove design can prevent falling off of clothes.
3D arc shape has no bulge and marks. So, it fits the shoulder structure of the clothes and pleases the eye.
Clear material is a plastic polymer with good weather resistance. Recyclable raw materials meet SGS Standard.
The factory has advanced equipment and strict quality inspection.
Popular acrylic hangers this year
Acrylic hangers become very popular in 2021. Thus, we can say that it is the hanger most favored by customers. Besides, many clothing stores are willing to order this kind of hanger. Because whether it is cheap or expensive clothing, acrylic hangers will make clothes look neat and clean.
So, even cheap clothes using it will look trendy and luxurious. Thus, they become the best acrylic hangers in 2021. I believe it will continue to fire in the future.
FAQs for best acrylic hangers
1. What is the minimum order quantity (MOQ)?
-If you need a custom shape and logo, the MOQ is 1000pcs. But, the MOQ of stock hanger shapes is 10pcs.
2. Can I send samples free of charge?
-Yes, you need to bear the freight.
3. How long is the production lead time?
-According to the order quantity, it is generally 7-15 days;