Flocked hangers are a kind of clothes hangers that are made of ABS plastic and fluffy, and these hangers in premium quality display aesthetic appealing. This hanger is also known as the padded hanger. They are as strong as wooden hangers but thinner. The velvety texture not only suits delicate garments but also adds elegance to your wardrobe. These flocked hangers are your choice for sellers on a tight budget who don't want to sacrifice quality.
The flocked hangers have a non-slip coating on the inside. It is this coating that prevents your delicate blouses from falling off. Then, they have an ultra-thin design, which makes them the perfect solution to maximize the space in your wardrobe. Compared to plastic or wire hangers, they are more durable. Other features of flocked hangers include preventing unwanted creases or wrinkles when hanging silk or other slippery materials. These hangers are suitable for keeping trousers, skirts, and shirts wrinkle-free. With other widgets such as clips, hooks, or notches, you can hang belts, scarves, or thin strap tops.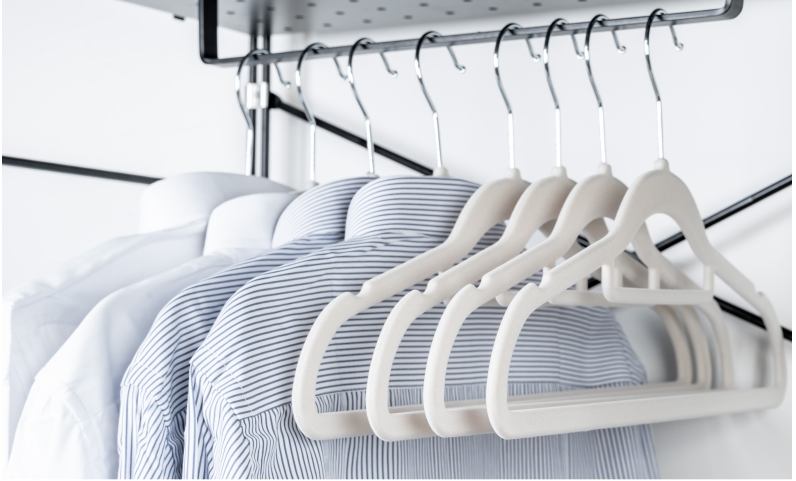 All this collection of flocked hangers we offer are at the best possible prices. You can choose to purchase in bulk. Add an optional logo plaque printed with your logo to give a more consistent look to your brand. As a professional hanger's supplier, we have premium hangers in various sizes, colors. Feel easy to choose based on your brands.
What is a flock?
The flocking process including applying short monofilament fibers, commonly nylon, rayon, or polyester to a substrate. That substrate has been previously coated with an adhesive during this process.
Flock made from this process has a pleasant appearance. It is persistent against bounce and scratches. When used for hangers, it keeps your clothes secure, so that they cannot fall or slip off. Its feature, in particular, suggests that it will work well with slick materials like cashmere and silk.
Why choose flocked hangers?
1. Aesthetic appearance
There are no other cotton or chemical fiber color restrictions. A wide range of color options is available, including camel, lavender, burgundy. The flocked fabric performs better than plastic or wood. For clothing brands, it fits different clothing styles.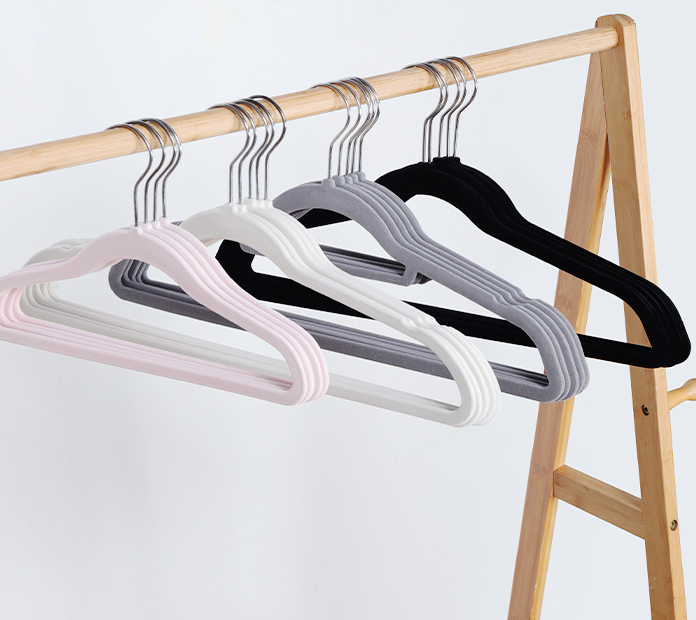 2. Soft feeling
The premium flocking fabric will have a soft and delicate feel. It feels like holding a swan in its arms.

3. Do not lose hair
Test the quality of flock fabric is to see whether it lose hair. Premium flocked hangers do not after rubbing them with hands.
4. Small noise
When hang clothing, the hangers will make noises inevitably, loud or small. Flocked hangers can be a good way to avoid this problem.
To sum up, the flocked hangers are a mixture of durability and aesthetics. Whether for home use or for displaying clothes in stores, this hanger is hard to ignore.