RPET fabric is a new type of eco-friendly recycled PET fabric with its yarn made from plastic bottles, so it also calls recycled plastic bottle fabric. PET is polyethylene terephthalate. And, it is a green fabric. Thus, the low-carbon nature has created a new concept in the field of rebirth.
RPET fabric uses recycled green fiber raw materials. First, we recover them from PET bottle recycling. Second, factories smash the recycled plastic bottles into pieces. Third, we process it by spinning. Then, we can dye, print, paint gold/silver/white, emboss and crease the fabric. In addition, it can reduce carbon dioxide emissions. So, it can save 80% of energy compared to the previous polyester fibers.
Images of the RPET fabric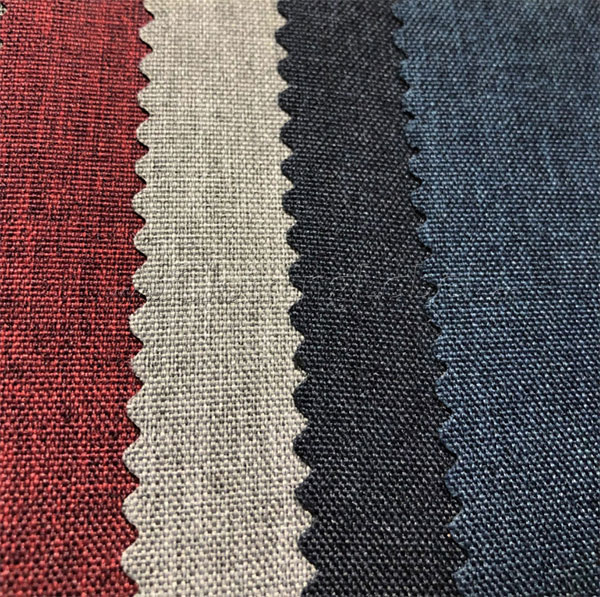 Features of RPET fabric
Coating process: dyeing, printing, TPE adhesive, PU, PVC, gold-coated, silver-coated, white-coated, excellent glue. The film, flame retardant, embossing, crimping, waterproof, antifouling, and oilproof, etc.
Physical index: Waterproof grade, water pressure resistance test, PU tension, etc.
Advantages: double-sided super waterproof and moisture absorption, sun protection, UV protection. Strong silver coating fastness, good silver coating brightness, wear resistance, and good air permeability, etc.
Dyes: eco-friendly dyes; free of aromatic hydrocarbons and other toxic substances. No irritation to the skin; bright color; colorfastness meets the new European standards and American standards.
Specifications of RPET fabric
75d/190t, 210t, 70d/230t, 240t, 260t, 50d/300t, 310t, 320t, 150d, 210d, 300d, 420d, 600d, 840d, 900d, 1200d, 1680d, etc.
RPET fabric applications
Bags and cases: computer bags, ice bags, shoulder bags, backpacks. Muslin bags, trolley cases. Suitcases, cosmetic bags, pencil cases. Camera backpacks, shopping bags, handbags. Gift bags, drawstring pockets, baby strollers. Storage boxes, medical bags, luggage linings, etc.
Home textiles: four-piece bed, blanket, backrest, pillow, toy. Decorative Cloth, sofa cover, apron, umbrella, raincoat. Parasol, curtain, wipe cloth, etc.
Clothing categories: down (cold-proof) clothing, windbreakers. Jackets, vests, sportswear, beach pants, baby sleeping bags. Swimwear, scarves, overalls, conductive overalls. Fashions, costumes, pajamas, etc.;

What is the manufacturing process of the yarn?
There are six steps
1, Plastic bottle recycling.
2, Bottle quality inspection and separation.
3, Plastic bottle slicing.
4, Spinning, cooling and collecting
5, Recycled fabric yarn.
6, Weaving into the fabric.

How to wash them?
The highest water temperature is 40 degrees;
No chlorine bleaching;
Cloth ironing.
Do not dry.
RPET fabric has excellent properties. Further, it has its presence in clothing, home textiles, and other industries. So it calls the "Crown of Chemical Fiber" too. Because it is waste recycling. Thus, it is popular in many countries. Such as in developed countries in Europe and America. But recycled green fabrics have low carbon and save oil. Therefore, it has made a great contribution to the green environment.