Clothing labels play a vital role in any clothing brand. Some brands may start looking for partners without knowing the specific situation. This might be a little inappropriate. Because purchasing clothing labels is also a more complicated thing. So, here are 10 things that you need to know before custom clothing labels, such as how to choose a supplier, and some problems you may have during the purchase.
1. Domestic suppliers or foreign suppliers, who I should choose?
First, clothing brands and factories will face the problem of where to find suppliers. Who do you want to customize? Are you looking for domestic suppliers or foreign suppliers? For domestic suppliers, the advantage is that express delivery is fast and there is no import tariff. And looking for foreign suppliers on Google, you can find cheap suppliers. But shipping costs can be higher than buying from home.

2. How to personalize the custom clothing labels?
First, you have to have an idea in your mind. Clothing labels also come in many styles. Choose the one that fits your own brand style, or the style you like. However, I suggest you go to Pinterest and search, or search images in Google. Secondly, if you need highly customized labels, then it is recommended to find a 1-to-1 customer service. This way you can customize the product exactly as you want. And after contact by email or WhatsApp, the order is placed and produced.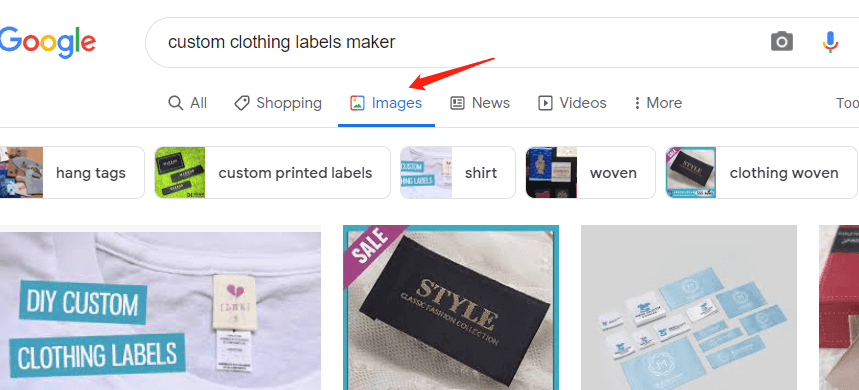 3. I want to order high-quality custom clothing labels, who should I contact?
If you want to customize high-quality, luxury clothing labels. You can find the related supplier according to the previous method. Then list the suppliers that you think are good. Then check their cooperation cases or the quality of customized products respectively. Finally, look at whether the supplier has cooperated with customers who have high product requests.

4. I want cheap products, how should I find them?
At present, the producers of cheap clothing labels are mainly in China, India, and Turkey. But it depends on which product it is. And they can only make normal woven and printed labels in India and Turkey. Other categories have higher requirements. Such as metal labels, leather labels, PVC plastic labels, etc. But, they can only find Chinese makers.
Here's a little trick. That is to compare prices through the B2B platform or websites. In general, you can add a "custom" in front of the search term. Then, many B2B websites that can customize clothing labels will appear on Google. You can send the inquiry to more than 10 suppliers to quote at the same time. Then you have the chance to find a cheap price. But you have to spend time sifting through. Some suppliers offer low prices in order to attract customers. And that might be invalid. Because they may start off with a low price and then raise the price in disguise.

5. I order custom clothing labels online. What if the seller doesn't deliver the goods after I paid?
There are several situations here.
1) If you bought it on a B2B platform, then you can complain to the merchant directly to this platform. You will get your funds back, but your time may be delayed.
2) If this is an independent website vendor you googled, take a closer look at how many years the website has been around. Here's a little tool: http://web.archive.org/. You can click on the site, and check the establishment time of the website. Usually, the website has been in business for more than 5 years, the credit is good. Basically, you do not have to worry about it. If the website is only a few years old, and the update is slow, and even no update for a few years. Then this site may have a certain credit risk.

3) In addition, you can check whether the merchant supports PayPal payment. If the supplier does not deliver the goods to you, you can recover your payment through PayPal.
6. To understand clearly the sub-industry you belong to
If you want to customize clothing hanging tags, do your products are women's clothing, men's clothing, or children's clothing? Are they women's clothing, European and American style women's clothing, 25-year-old European and American style women's clothing? In this way, the more detailed your clothing positioning is, the more you can make a personalized tag that suits your company. If you're in the children's clothing industry, you can tell your suppliers when you customize your labels. Then ask him to recommend to you what material is more eco-friendly and harmless.

7. You should understand laundry symbols before customizing wash labels
Many clothing brands will customize some care labels with wash symbols. Therefore, you can know in advance what wash symbols are available before placing an order. What laundry symbols are in accordance with the fabric of your clothing. For example, if you are a shirt brand, you can ask the supplier to print some necessary symbols for you when customizing the label. Such as do not bleach, hang dry, iron at low temperature, wash separately, etc. Here you can learn more design ideas in the article Images of garment care labels.

Image source: https://www.pinterest.com/pin/162974080249883560/
8. Choice of supplier services
Regarding the choice of suppliers, in addition to product prices, we should also consider the services provided by the suppliers. ClothingLabels.cn is a clothing accessories supplier engaged in the industry for over 10 years. It can provide customers with professional and reasonable solutions. And product experts can provide professional advice. Choosing a professional supplier will save you a lot of detours and save you a lot of time. And there will be a good guarantee of the quality and delivery of the product.

9. Follow the concept of protecting the earth and make green products
When customizing clothing labels, consider protecting the planet. Choose green and eco products, such as choosing less plastic products or degradable plastic products. For paper products, please choose products with FSC certification. For textiles, you can choose OEKO-TEX certified products. Our woven labels products have passed the certification and we can provide relevant certificates.

Image source: https://fsc.org/; https://www.oeko-tex.com/
10. How many channels are there for custom clothing labels?
There are four main channels for custom clothing labels.
1) By way of offline exhibitions. MUNICH FABRIC START is a relatively professional industry exhibition. And a large number of professional suppliers will participate in the exhibition. We participated in this exhibition in 2019.

2) Professional online platforms. For example, www.alibaba.com, www.madeinchina.com, www.globalsources.com will also have a large number of suppliers to choose from.
3) Google search. Search for relevant keywords on Google to find relevant suppliers.
4) Social media search. Such as Facebook, Pinterest, Instagram, Twitter, YouTube, etc.