Clothing hang tags are labels attached to clothes, and we supply custom clothing hang tags for the fashion brand to improve clothing value and brand image. This tag is used to beautify apparel. Delicate clothing hang tags are remembered for every little detail from the material down to their appearance. It is obvious that this is a memorable keepsake.
In a retail store, shop owners like using these hang tags to label clothes like t-shirts, jeans. In this way, it attracts more consumers and adds value to your clothing. Information like price, specifications, size can be printed on hang tags, which stock hang tags cannot do. Custom clothing hang tags even can be printed with the brand logo, brand story, and more to expand the brand's influence. We can customize hang tags to any shape and size that you need in a variety of styles and types.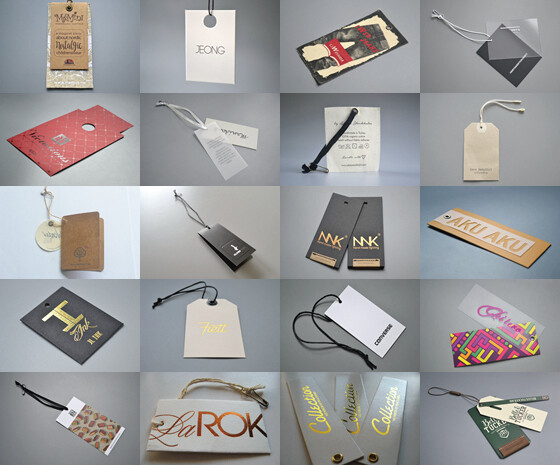 How to choose clothing hang tags?
Clothing hang tags help reinforce the brand message and describe important traits of the clothing, here are some tips to help choose them.
1, life service
Most of the time, people throw the broke hang tags away. But that doesn't mean it's useless. On the contrary, it also expresses your attitude towards your brand. So why not choose to hang tags with long durability. The priority for retailers is to build your brand, so fragile material should not be your choice.
2, shape
You can find your ideal clothing from a great deal of clothing with almost similar hang tags. Utilizing clothing hang tags with special shapes could attract customers. Die-cut promises a smooth edge and delicate shape.
3, logo
Generally, the first thing you see is the brand logo. A trend logo is an efficient tool to differentiate yours from others. Luckily, our professional designers would like to help you. It said that people like to share their items with a specific logo. That's to say, the logo helps your repetitive sales.
Attachments of clothing hang tags
There are many ways to attach hang tags to your clothes. Many clothing hang tags with grommet and eyelet can fir your stylistic needs.
1, String or cord
This is the easiest way to do it. You need to pull the string or cord through the clothing hang tag's hole and tie up the closed-end in case of loosening. Then you need to pull the open end of the string through the loop at the opposite end. And then, you knot the cord around the strap on the clothes. Finally, you will get clothes with a hang tag.
2, Safety pin
Safety pins are much easier than string or cord. we are a pleasure to send you our samples.
3, Other
Ball chains, key chains, or tagging guns. It is pretty quick and easy.
Contact us with E-mail or WhatsApp