A collar stay is a collar stick or collar support (also known as collar insert, collar bones, collar tabs, collar stand, collar stiff, butterfly pin, etc.). It is a shirt accessory that is usually made of metal, MOP(Mother of Pearl), animal horns, and plastic. Its shape is pointed at one end and arc at the other end. And it is the most basic accessory for men's formal shirts.
A collar stay is not like ties, bow ties, squares, etc., which are exposed outside of clothing as a modification. They are absolute behind-the-scenes heroes. And we can say it is the inner show. And it is responsible for bracing the collar. In an elegant shirt, the collar support plays the most basic and crucial role. Then we can supply personalized custom collar stays with brand-engraved logos and names. Any size, type, or color is available.
Removable & unremovable collar stay
The collar support can be divided into two types from the form: removable collar stay and unremovable collar stay.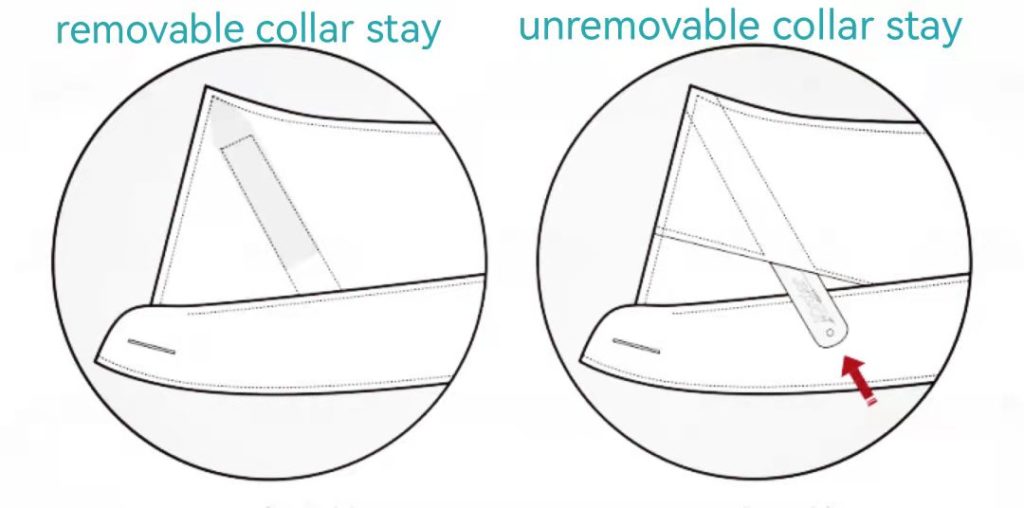 Unremovable collar stays: We usually use it for cheap dresses, shirts, and some casual shirt products. Inside the collar is sewed a piece of mylar collar support. And it is completely hidden, not removable.
Removable collar stays: Most high-quality formal shirts and men's polo shirts use removable collar stays. In general, we will reserve a slot on the back of the collar and attach more than one pair of collar supports. In this way, customers can change the collar stay of different materials to their personal taste and features of the shirt. And that will achieve different effects.
What are the different types of men's collar stays?
Plastic collar stay
Plastic is a relatively common collar stay material. It is easy to make and low in price. In terms of material, the plastic collar stays mainly uses polyester film and PVC. The collar stays that most shirt brands come with are made of plastic. So, brands who want to look for low prices can choose plastic collar stay.
The advantage of plastic collar stay is that it has better washability. Even if you forget to take it out when washing the shirt, it will not cause too much damage to the shirt. If we lost or damage it, just buy a new one.
But, the problem with the plastic collar stay is that the rigidity is poor. And the collar is not straight enough; at the same time, the weight is very low. Thus, it can't add weight to the collar.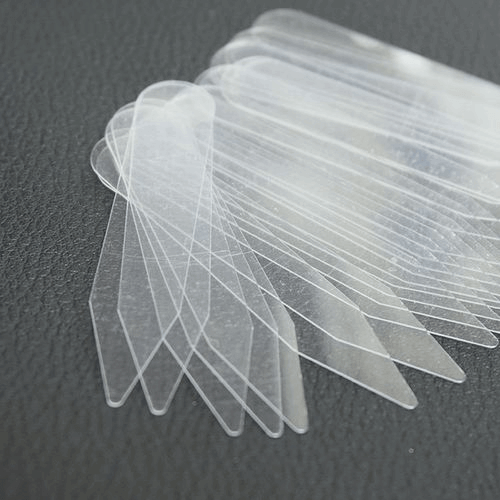 Metal collar stay

Metal collar stay includes brass collar stays, stainless steel collar stays, gold collar stays, silver collar stays, steel collar stays, magnetic collar stays, etc.
Among metal collar stays, stainless steel collar stays are the most common. Stainless steel has a smooth surface and appropriate weight. And it can provide a very ideal collar appearance while having good wear resistance.
Copper collar stay is also common. The wearing effect of it is similar to that of the stainless steel collar stay, but its texture is slightly softer. Copper has a unique texture. And good design and crafts can make copper look more elegant than stainless steel.


Gold /silver collar stays are definitely a kind of "low-key luxury." Their physical properties will not be much better than other metal materials.
But, they look more elegant and luxurious.
So, many men's shirt brands will engrave logos on it to display their brand. And even some brands will also inlay hand-made diamonds on it.
Mother of pearl/ fish bone/horn collar stay
Fishbones (the origin of the English name" Collar Bone" ), horns, and MOP are relatively rare in the market. And they are not cheap.
Then, the collar stays of these materials are mainly small objects. Some high-end wearers like to collect them because of their scarcity.

Imitation wood grain/bamboo collar stay

The imitation wood grain collar stay and bamboo collar stay is not expensive, and more represents an aesthetic and concept.
Yet, the problem is that the thickness cannot be very thin. Therefore, it is only suitable for a part of the collar lining and shirts with thick and hard fabrics.
Other types of plastic and paper shirt collar stay
How to choose the size of the collar stay?
Small square collar with short collar, suitable for a width of about 10mm collar stay;
Use 2-inch long collar stay for small square collars with shorter collars;
Windsor collar or small pointed collar with a slightly larger collar, use 2.2-inch collar stay;
Large horoscope with a larger collar, using a 2.75-inch long collar stay;
How to choose and use the collar stay?-Four rules below
Rule 1
When the first button is buttoned, the tip of the shirt collar should press on the front of the shirt.
A decent formal dress shirt collar should not curl or rise. When the first button is buttoned, we should press the collar tip against the front of the shirt. The weight of the collar stay makes the collar fit better. The rigidity and elasticity of it make the collar straight and flat.

Rule 2
The collar stay should match the size of the shirt collar support slot.
Since the size of the collar support slot for shirts is not a very common standard. And the size is not consistent for each brand, and even for different products of the same brand. Therefore, you may need to prepare many sizes of collar stay to adapt to different brands of shirts in your hand.
For example, if the collar stay is too long, we can't bend the collar normally; the collar stay is too short and not easy to take out, we can't see the supporting effect; if the collar stay is too narrow and it is easy to fall out; but, if it is too wide, we cannot put it in.
Rule 3
The collar stay material should match the material of the shirt collar.
First, a thick, stiff collar works well with stiff collar stay. Because a too soft collar stay can't support it. Second, a soft collar is suitable for relatively thin and soft collar stay. Just because the collar brace is too hard to form marks on the collar surface.
Rule 4
Be sure to remove the collar stay before washing and ironing the shirt.
Some collar stay material is not washing, not have high-temperature resistance. And it can damage the shirt and even the washing machine in the wash or iron. So be sure to remove it before washing or ironing the shirt!
History of collar stay
Back in the late 18th century, stiff two-collar shirts became more and more popular. People starched their shirts with paste. Then, neat and straight collars became a symbol of a good life. At the same time, the collar stays born. The earliest collar stays date back to 1809 and wood makes it.
In the 19th century, the removable collar emerged. And people can starch the collar separately. Then men can wear the shirt for a few more days. But, the collar changed every day. By the 1930s, laundry tech became more and more automated. Removable collars gradually disappeared from the stage of history, and collar stay became popular. Before people used plastics commonly, the collar stay was consist of metal, wood, and bamboo. And the metal collar stays have been around for over a hundred years.
FAQs
1, What Is The Price To Customize your metal collar stays for my shirt brands?
-The price depends on your custom size, color, technics, and quantity. Prices are not fixed. It needs our business expert to calculate according to your specific needs. You can contact us to get a free quote.
2, What Are The Sample Production Time And Mass Production Time?
-Sample production time is 10 to 15 days. Mass production time is 15-20 days.
3, What Is The Shipping Time?
-Shipping time is 3-6 business days by express.
4, What Profile Is Needed When Production?
–Pls, send us vector logo files, like PDF, AI, ESP, CDR, or original files from PSD. If you have no art file, we offer free design for you.
Free Design | Free storage service | One-to-One Support | One-Stop Purchasing
Customize Your Own Personalized collar stay with Logos!
Feeling inspired?
Our Product Experts will guide you through every step of the custom process.