Cotton lace trims are decorative lace edges made of 100% cotton, which use a sewing or machine weaving way to make clothing fabrics more elegant and durable. They are imported products, which are the earliest mesh weave by crochet. Our cotton lace trims have items of lace ribbon, lace fabric, embroidery, and flower. From classic French style to fashion style, cotton lace trim works well in different styles. These cotton lace trims can achieve a perfect blend of clothing. So it is ideal for fabric details and home decor materials.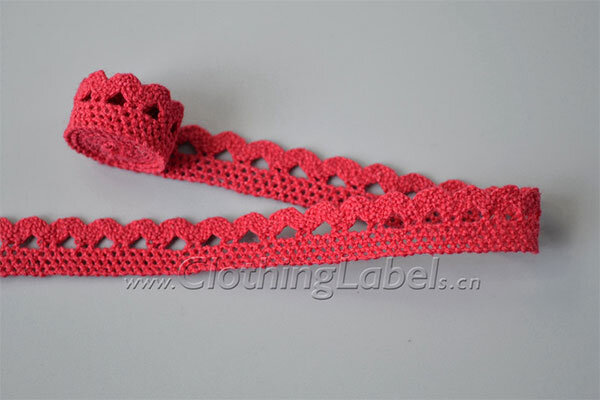 This lace trim is from cotton fabric for durability and convenient use. So it is softer than nylon or synthetic lace making it ideal where you want the fabric to hug the body. It comes with a flower backside and embroidered lace, making the trim more elegant and beautiful. Like other cotton products, the trim does shrink and tighten up. So please remember to take that into account when sewing it onto garments. Lace trims can show various patterns to embellish clothing and other fabrics. We can find their broad application in dresses and female underwear brims. Besides that, the cotton lace trim is also ideal for curtains, handbag accessories, pillows, and home decor, etc.
As a professional supplier, we have various cotton lace trims. They are now available in many styles, types, and sizes as your requests. We also provide custom cotton lace trims and your logo can be woven or printed on them. Due to their nature property, it is easy to be dyed into any color you want. Customize your own cotton lace trim to create exclusive sweetness.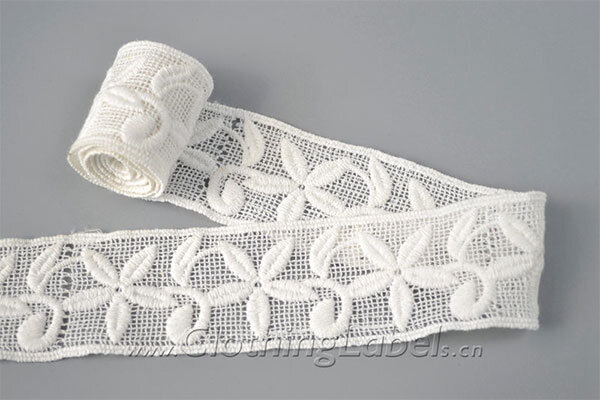 Features
Made of pure cotton with pretty lace, durable and easy to use;
Distinct lace patterns as customers' requirements;
Beautiful design with soft texture;
Wide application in clothing, gifts, and craft projects.
Cheap price with first-class quality;
Diverse types and sizes for your choice;
Development of cotton lace trims
Cotton lace trims appeared in Europe in the 16th century. People use them for the decoration of clothing and other textiles. At first, its production process was rather complicated. Unlike traditional crocheting or embroidery, it is not knitted with silk threads or yarns according to the pattern effect. But the cotton silk threads need to be spawned on each small shuttle. Put the pattern underneath when making, and use different knitting, winding, and other ways to make.
After 2000, cotton lace trims' production was changing from mechanical chain knitting lace machines to computerized lace machines. This strengthens the scale of automated production. At the same time, it saves time and improves efficiency.