We supply custom clothing buttons with LOGO for apparel, LOGO can be printed or laser engrave, material can be resin, metal, wooden, plastic, shell, etc. Brass, pearl, ABS, zinc alloy, acrylic, polyester, covered button, claw, aluminum, rubber are materials of them. We wholesale bulk custom clothing buttons for any clothing brand. You can customize your personalized buttons for shirts with engraved logos. Also, you can design text on the buttons.
Besides, a business can buy metal coat buttons, rubber buttons for baby sweaters, etc. All kinds of custom clothing sewing buttons are available at your request. Such as metal buttons, toggle buttons, shirt buttons, rubber buttons, snap buttons, rhinestone buttons, etc. You can customize any size, type, or color from us. We can manufacture various clothing buttons at a cheap price. They can ship to Canada, the USA, the UK, and other countries.
We wholesale all custom fashion buttons, gold buttons, silver buttons, decorative buttons, etc. And they are perfect for suits, jackets, dresses, jeans, bags, trousers, bags, etc. Besides, they are affordable at a cheap price. Contact us if you are willing to order.
Material distinction
We divide button materials into plastic (resin, plastic), metal (copper, iron, alloy), and natural (seashell, wood, coconut shell, bamboo). Various materials need to be made into buttons. And their crafts are different. Some buttons look the same in appearance. Even people in the industry may not be able to distinguish them clearly with their eyes. Therefore, people can distinguish them by breaking and scraping off the coat.
Plastic buttons and resin buttons
Plastic buttons are generally die-casted. So there will be a line on the side of the button. But, some factories may remove it in subsequent processing. Further, its weight will be lighter than the resin (of course some special plastics will be heavier).
Resin buttons are mechanically engraved and then polished. So the surface is very smooth. But it is fragile, and the surface is easy to scratch. Thus, it will become soft when placed in boiling water.
How to distinguish between copper buttons and iron buttons?
How to order custom clothing buttons
Please choose some style you like from our clothing buttons' photo gallery, and email us.
Advise the size of your custom clothing buttons please, if you are not sure about it, it will be better if you can do some research about the size of the clothing buttons on some kinds of clothes in the market.
Please advise the number of your order.
Email us the above details of your custom buttons, then we can quote you a price based on them.
After the price is confirmed, we suggest making bulk production directly if the quantity is less than 5000pcs. If more than 10000pcs and the custom clothing buttons are complicated, we suggest making samples before bulk production.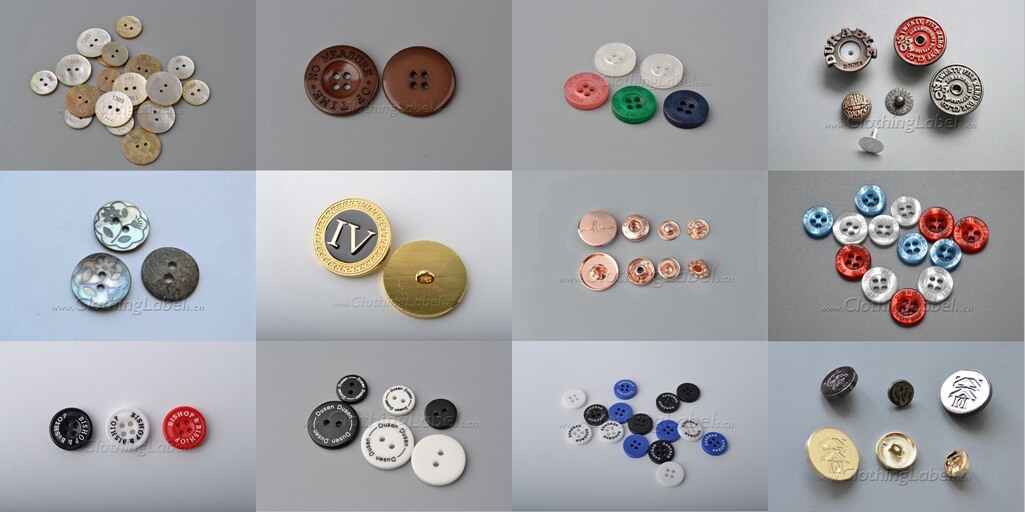 Quotation if you need custom clothing buttons
Reference sample from clothing buttons' photo gallery or from other places.

The minimum number:

MOQ is 100PCS

.

You can send us your logo or design. If not, we will offer free design for your clothing buttons.
Email: [email protected]
WeChat &WhatsApp: +8618143478283.
Looking for custom clothing buttons maker?