Custom metal name tags are engraved/printed name badges with magnetic or pin back, materials have gold, silver, bronze, brass, aluminum, stainless steel, alloy. A printed or laser engraved metal name tag with logos will enhance the brand image. They are ideal for uniforms, work clothes, employees, nurses, and children. And desk signs, office works, doctor, business, etc.
Custom metal name tags & badges
You can design personalized metal nameplates for your company employees, hotel staff, etc. Then, we can print or engrave your company name or brand logo on it. A one-of-a-kind metal nameplate belongs to every employee of the company. This will enhance the company's image and office efficiency. The name or logo can have a 2D flat or 3D raised effect. Any color and size are available.
Details
Product Category

: Metal Signs; Badges; Hardware Nameplates; Metal Labels; LOGO tags; Labels; Trademarks;

Plating color

: 24k real gold, nickel, imitation gold, silver, ancient silver, bronze, pearl nickel (gold), rose gold, black nickel, etc.

Shape

: rectangular, geometric, special-shaped, etc.

Thickness

: 0.3mm/0.4mm/0.5mm/0.6mm/0.8mm/1.0mm/1.5mm/2mm/3mm, etc.;

Product material

: metal, gold, silver, stainless steel, aluminum, copper, zinc alloy, brass, bronze, etc;

Printing form

: silkscreen, corrosion, electroplating, die casting, glue drop, UV, etc.;

Surface treatment

: frosted bottom, gold bottom, wire drawing, polished bright surface, double electroplating, etc.;

Product process

: stamping, laser, engraving, corrosion, semi-concave, debossed/embossed, hollow, sandblasting, anodizing, drilling, polishing, grinding, die-casting, etc.

Product effect

: mirror surface, wire drawing, matte/glossy surface, silk screen printing, pad printing, color filling, oil filling, oil painting, retro, spray paint, baking paint, etc.

Installation method

: safety pin, magnet, butterfly buckle, etc;
Photo gallery of custom metal name tags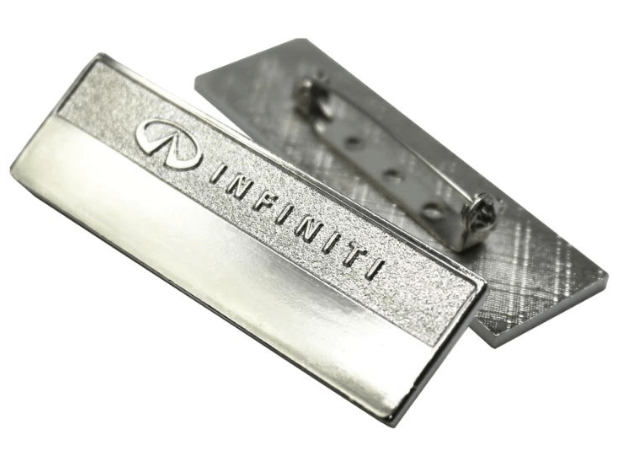 Where are the custom metal name tags mainly used?
As custom metal name tags manufacturer and supplier. We produce them through different processes and their uses are also different. First, they are suitable for companies, hotels, restaurants, banks, schools, etc. Where custom badges and name tags are required. Second, they are perfect for badges, medals, keychains, hat badges, hat clips, wallets, commemorative coins, etc. Third, we can use them in many craft signs. Such as cufflinks, picture frames, furniture, tie clips, belt heads, hang tags, bottle openers, etc.
Custom metal name tags: magnetic or pin back?
Metal name tags' fixing methods are mainly magnets and safety pins. However, there are also butterfly buckles.
Types of custom metal name tags in material
When you design a metal name tag, you may not realize the importance of the material. We have different nameplate metal options. Besides, we also offer different looks and practical advantages. See below for information on choosing a nameplate metal material. It is good for you to make the perfect choice for your business.
Aluminum name tags
Aluminum is lightweight, versatile, and extremely durable. There are many options for its thickness. Then, its appearance is suitable for decorative use. Also, Aluminum is rust and chemical resistant. You can choose a photo stamp for the aluminum nameplate or other classic aluminum silver designs. Achieve these looks with the following finishes:
Anodized, clear or colored options;
Brushed to create a classic business appearance;
Grind to light grain;
Polished;
Stainless steel name tags
A stainless steel name tag is a stylish and popular choice, especially when you need a durable nameplate. Meanwhile, it is ideal for industrial and military applications. Especially when you need to display model numbers or serial numbers. Because the material has a clear, easy-to-read appearance. Then, it is also resistant to heat, abrasion, and corrosion. If you want your name tag to have a different look, consider the various finishes of stainless steel. Such as brushed finish, matte, polished surface.
So, they are perfect for making custom engraved ID tags for dog pets, key chains, and fancy decorations. At the same time, you can customize the unique steel tag as a gift for friends or family members as you want.
Brass name tags & badges
If you like decorative metal, a brass name tag might be the right choice for you. Brass nameplates are between 0.016″ and 0.125″ thick. However, this depends on the supplier and the maker. Although we use brass mainly for decoration, it also has some practical benefits. And it includes stain resistance, abrasion resistance, etc.
The processes of brass include stamping, metal drawing, laser engraving, etc. Then, we will use anti-oxidation treatment on the surface, with no fingerprints, and no oxidation.
Bronze name tags
As a metal name tag material, bronze is very similar to brass. Bronze is just more reddish or coppery in color. Like brass, bronze is a malleable and decorative choice for custom metal name tags & labels. It has some advantages that make it suitable for different conditions. These advantages include corrosion resistance and metal fatigue resistance.
As with other metals, you must choose a thickness. With bronze name tags, you may not have as many options as other metals. The standard thickness option for bronze nameplates is 0.045 inches. But you can tell us what other sizes you need. All sizes and colors are available.
Other name tags
The four metal materials above are popular choices. But they're not the only nameplate metals. There are other metal types to choose from. For example zinc alloy, nickel-copper alloy, nickel-silver, gold, silver, etc. You'll also find more material than the types we describe. But knowing what these metal types are used for can be helpful when making your decision.

Please provide the following information when placing an order or inquiry
-Logo file or art file (logo design): CDR, ESP, PDF, PSD, AI;
-Your product size, color;
-Order quantity;
-Sample or not;
-If you have no logo file, just pick some samples from our site similar to your needs. Then tell us your requests.
Contact us by Email or WhatsApp
If you don't find the style you want on our website. You can send us the pictures you want by email or WhatsApp. You just need to send us your logo or design file. Of course, if you don't have ideas, we will also provide you with free designs.
Email: [email protected]
WhatsApp & WeChat: +8618143478283
Related products:
We also wholesale custom metal labels, metal tags, metal buckles, metal cord end, metal eyelets, metal loops, metal wine labels, etc.