Custom string tags, price tags, paper tags with cotton string and plastic seal with you LOGO. low price and MOQ, good quality.
These custom string tags provide a boutique feel to your shop. Our tags have plenty of space to write the style, size, and price of the item. Your customers will get product prices and other information from the tags.
Washing labels, washing care labels are usually printed instructions and components of the printed product itself. Generally used materials include: polyester tapes, fabrics, ribbons, nylon belts, cotton belts, and polyester-cotton belts.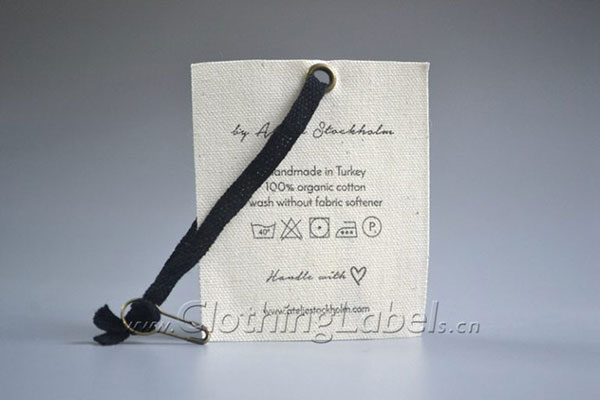 The woven label is mainly used as a decorative webbing that is interrupted by the middle of the casual wear. It is usually a branded LOGO or English and is mainly used for decoration. It is used at pockets, inner pockets, cell phone pockets, over the sleeves, or in the middle of the back. On the side. Washing care labels are made of special materials and are usually placed inside the inner pockets. The clothing number and the section number are mainly marked by the manufacturers. The ingredients, specifications and implementation standards, safety categories, washing standards, etc. Custom string tags strictly speaking: refers to the whole part of the clothing listed, listing by custom string tags, certificate and other products, very good coverage of the enterprise and brand, clothing information such as the brand's registration number, brand manufacturers, manufacturers The spokesperson of the image, in addition to the contents of the washing label, can also have the quality of the spokesperson, price, bar code and other conditions of return and return, and the interpretation of the clothing is more comprehensive.
Clothinglabels.cn specializes in the production of various clothing accessories,like washing labels, washing care label, custom string tags, other series of clothing trademark, has many years of clothing cloth standard production experience, fast delivery of equipment, quality assurance, low price. Welcome to contact us for labels!