Different labels & tags suit different clothing and brands. And then, it will also produce different effects. So when you're customizing clothing labels, it's important to choose the right label for your garments product and brand positioning. In this article, we mainly talk about custom woven labels and printed fabric labels. And which one is better for your brand.
1. How to choose them from a practical point of view?
Under what conditions do we need custom woven and printed labels? Custom woven labels are custom neck labels and main labels. For example, it mainly includes customized logos, sizes, and patterns. But the pattern can only customize the rough outline. If you need better effects such as portraits, then I suggest you customize the printed label.
That is, when you need the main label, you need to customize the custom woven label. When you need wash labels, you need to customize the custom printed fabric label.
Secondly, it is recommended to choose a woven label for ready-to-wear brands. There are more Kids and womenswear brands that will choose printed labels. Because children's clothing has a shorter life cycle. So, it is more cost-effective to choose a label with relatively low colorfastness. If it is a suit brand, you can choose custom woven labels. Because they are more textured. And they are not easy to wear and tear and have high colorfastness.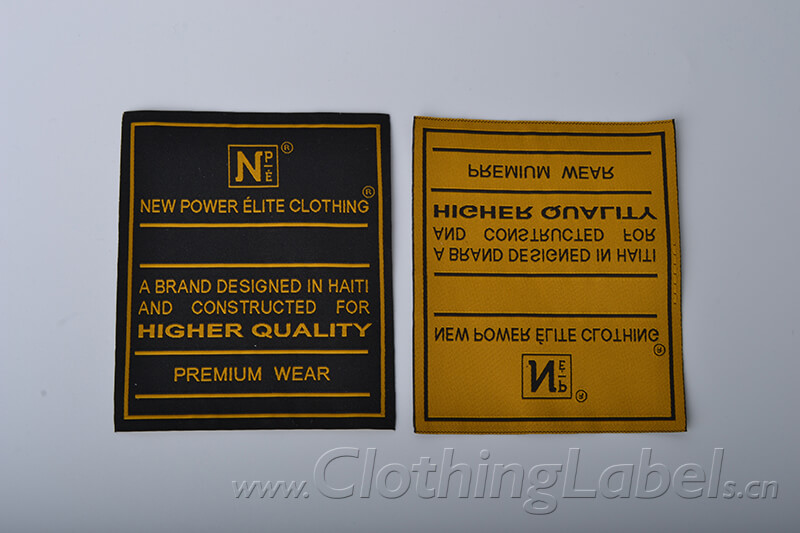 2. How to choose from the effect achieved?
Printed fabric labels can express information and patterns more clearly and delicately. And they can print more details. But the woven label can't express more details, And it depends on the effect your logo wants to achieve. If you like woven style labels, you can customize the logo, and patterned woven label.
3. From the colorfastness to washing
If your clothing brand does not require high washing color-fastness, you can customize the printed fabric label. If the requests are higher, it is better to choose a woven label, which is not easy to wash off.

4. In terms of cost
From an economical (cost) point of view, if you want a cheap label, choose the printed fabric label. If you want a high-end and luxurious label, it is recommended to choose a custom woven label.
5. From an environmental point of view, which one is better?
Woven labels can be made from recyclable materials. It is woven from recycled yarn. And we have the OEKO-TEX® certification of woven labels. There are no recyclable materials for printed labels for now.

6. In terms of color
We can only make up to 7 colors for one custom woven label. If you want an ombre color, the printed fabric label is more natural. There will be obvious excess and layering on the woven labels. And printed labels can add more colors to express your logo and patterns. Then, the printed fabric surface is more natural and smooth.
The printed fabric label has a high color request for CMYK and Pantone colors. And it is recommended to use Pantone color numbers. But, the cost of coloring the Pantone color card alone will be a little higher.

7. If the customer needs to add variables, which one should they choose?
If you need serial numbers and expect different numbers for each label. Like 10001, 10002, etc. Then we recommend that you customize the printed labels. It can be the logo above, the second line below is the serial number. And other contents remain unchanged. This is for statistical distinction.

8. From their features
The custom woven label is high-end, firm, with clear lines and soft touch. Due to the printing method, the labels are colorful and high definition. Therefore, the product is more fashionable. Production efficiency is also high.
Because the production method of woven labels is similar to that of woven fabrics. So, its yield is not as high as that of printed labels. But it is washable and not easy to fade. So the product appears to be relatively high-end.

9. From their hand feel
The edges of the custom woven label are also softer, but firmer. This is perfect for a variety of ready-to-wear clothing brands. Because they do not irritate the user's skin. However, if you pursue a more comfortable children's clothing brand, please choose a printed fabric label. So that it will not rub against the children's skin.
10. From the appearance
In terms of appearance, the quality of the woven label is higher than that of the printed label. And the surface of the printed label looks thinner than the woven label. Besides, it is not as strong as the woven label. Therefore, for some small-cost clothing brands, it is more cost-effective to choose printed fabric labels. If you pursue high-quality clothing labels, woven labels are more suitable.
In short, the above are the 10 angles I have summarized. You can refer to these 10 angles when you don't know how to choose custom woven and printed fabric labels. At the same time, we produce and sell custom woven and printed labels. For customization, please feel free to contact us. We will provide free design and low MOQ.