D rings are made of zinc alloy and iron by shape of "D" using electroplating and polishing, including metal D rings and plastic D rings for fashion brands. The shape of the D-ring is like the English "D", so it got the name. The D rings made of zinc alloy are closed, and the D-ring made of iron is open. As fasteners, they belong to hardware or metal accessory. Also, they are smooth without burrs or sharp.
Exquisite craft double-sided plating seal oil makes it durable and not easy to fade. In most cases, it plays an important role as a hook device. Sometimes it can also connect to the end of a belt, chain, cable, or rope. The vertical part of the D rings is usually detachable. Therefore, we can install the device in different positions. Although in many cases, we can fix the part to the rest of the device. But the ring itself can be bolted to a solid surface. Or it can even be welded down.
Plastic D rings
The material used to make the D rings may vary depending on the intended use of the part. Among metal accessories, metal D rings are the most common. Plastic D-rings are not common, but they also have many uses. Plastic D rings are suitable for light-duty applications. They are perfect for the straps and belts. Such as on luggage, backpacks, or other suitcases. This makes it easy to connect points or tie-down devices.
Applications of D rings
D rings have a wide range of applications. So, they are not only ideal for working dogs, pet dogs, and other dog traction chest straps. It is perfect for the leash of your pet dog. Because it is very sturdy. Thus, the metal D ring is indispensable for dog lovers' daily dog walking needs.
They can also use for sewing needs and make belts, luggage straps, handbags, backpacks, seat belts. In the field of shoes, hats, tents, curtains, and certificates, D-rings can play a big role. The D rings are also ideal for clothing brands, such as coats.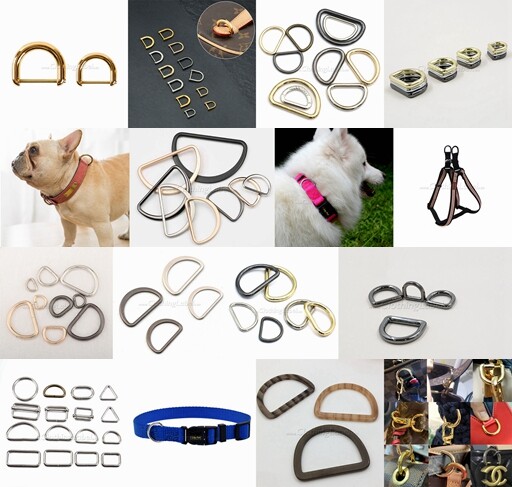 Features
Material: Iron, Zinc alloy, etc;
Ideal for various materials: umbrella rope, leather, fabric, cotton, nylon, or webbing;
Electroplating process: the color penetrates the surface layer, which is firmer, not easy to rust; strong corrosion resistance; durable;
Fine polishing process: the surface is smooth, it has good sliding properties;
Size: Any size is available at your needs;
Color: gold/silver/bronze/gun black/customizable color;
Uses: clothing, hats, shoes, luggage, handbag accessories, pet strap accessories, webbing accessories, and others;
MOQ: Stock size(10pcs), no customizing
The metal D rings are one of the most practical and versatile hardware. Durable and versatile D-rings are indeed everywhere. Considering durability and performance when designing, our available metal D-rings consist of cold-rolled steel and have a nickel-plated coating.
We can customize metal D rings, metal eyelets, and metal slider buckles according to customer production needs. Any size, different colors, and different processes are available. We adopt seamless welding technology, and the welding is firm. We can customize welding products with different levels of tension according to customer requirements;