We supply different types of ribbons with pictures for decoration, and gift wrapping, which has wide use in clothing, shoes, boxes, bows, accessories, and DIY. The application of custom-printed ribbons in life is everywhere. Such as festivals, birthdays, weddings, parties, home textiles, etc. Also, it plays a big role in many events, flower or gift shops, and competitions. Therefore, it is necessary for us to understand the different types of ribbon design. So that we can make a more correct choice according to the product. Below I have listed 16 kinds of ribbons for your reference.
16 different types of ribbons with pictures
Elastic ribbon
Grosgrain ribbon
Satin ribbon
Velvet ribbon
Twill ribbon
Silk ribbon
Cotton ribbon
Metallic ribbons
Lace ribbon
Burlap ribbon
Tulle ribbon
Glitter ribbons
Picot Ribbon
Gingham ribbon
Organza ribbon
Jacquard ribbon
1. Elastic ribbon
The elastic ribbon is suitable for garment cuffs and waistbands. And it includes printed elastics and jacquard elastics. Custom elastic ribbons are suitable for underwear, swimsuits, pants, legging belts, sports bras, and dresses. Also, it can be used for shorts, sweaters, bikinis, masks, hats, etc. Its materials include polyester, yarn, spandex, cotton, nylon, latex-free, etc.
The elastic ribbon band is comfortable, soft, and elastic. So we can wear it directly on the skin. Then, it is perfect for making bracelets, wig or headband changes, and face shields. Plus, it's a good fit to provide custom resistance bands and exercise bands.
2. Grosgrain ribbon
Grosgrain ribbon is a cotton fabric in which the weft is thicker than the warp. It has a thick texture, a glossy surface, and a distinct horizontal stripe texture. Then, its surface is not smooth, but it is very durable. Regular grosgrain ribbon is mainly plain and twill. But, its warp elasticity is particularly good. This is unmatched by weft elastic fabrics. In general, grosgrain fabrics are cut horizontally when used in clothing.
3. Satin ribbon
Satin ribbon usually has one side that is very smooth and has good brightness. It is its satin surface. The product has good gloss and drape. And it's soft to the touch with a silk-like effect. The specifications are usually 75×100D, 75×150D, etc. The raw materials are cotton, blended, polyester(or double face), nylon, and purified fiber.
4. Velvet ribbon
The velvet ribbon is made of velvet and chenille fabric. And the surface is velvety to the touch. The velvet texture is soft and the raised plush feels warm. And it will be very warm if used in winter clothes.
5. Twill ribbon
Twill ribbon is a herringbone fabric tape woven in a twill pattern and has parallel twill weaves. And it includes nylon, cotton, wool, polyester, and linen materials. We can also call it herringbone twill tape, or twill webbing. Twill together with plain weave and satin weave, are the main common three textile weave types. Besides, it is soft and skin-friendly, breathable, and refreshing. And it is one of the types of garment tape.
Twill ribbon is ideal for clothing collar hemming, box wrapping, sewing accessories, DIY decoration, etc. In addition, it is perfect for luggage, footwear, handicrafts, pet belts, and sports equipment. Home textiles, handmade bows, and waistbands will use the twill tape too.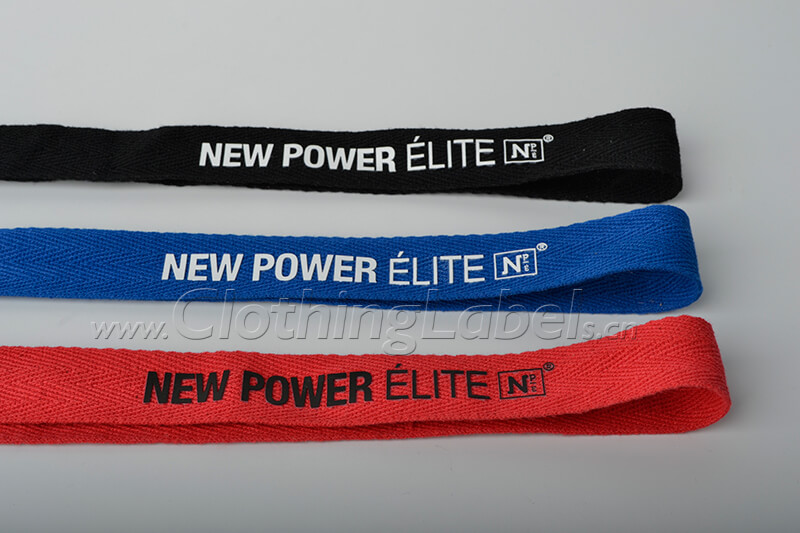 6. Silk ribbon
Silk ribbon is a kind of exquisite hand-made ribbon like silk. It is a smooth and slippery fabric that feels great in the hand. Materials include silk, rayon, nylon, cotton, gold, and silver thread. Silk ribbon comes in a variety of colors.
7. Cotton ribbon
Cotton ribbon refers to a fabric woven from cotton yarn or cotton and cotton-type chemical fiber blended yarn. There are many varieties of cotton ribbons and different colors. Cotton tape is perfect for bedding, blank accessories or shirting, outerwear, decoration, waistband, DIY, etc.
8. Metallic ribbons
Metallic ribbons are gold/silver or other colors of wire webbing. Metal ribbons will give people a high-end light luxury quality. And it can be made in many colors. Therefore, it is suitable for clothing, gift box packaging, wedding or holiday decorations, etc.
Applications:
Headwear, clothing design decoration;
Shoe and hat packaging; mobile phone decoration;
Christmas gifts, Jewelry, toy packaging
Luggage, food, or company product design packaging
Cosmetics packaging; wedding decorations; wine box packaging; moon cake packaging design, etc.

9. Lace ribbon
The lace ribbon is fabric borders made of lace with patterns to embellish clothes. Lace ribbons include crochet or beaded lace trims, ruffled lace trims, and knitted lace edging. There are other types of lace ribbons as well. Such as stretch, gathered, Chantilly, or scalloped lace ribbons. Then, all the lace ribbon trims are perfect for decorating clothes, skirts, veils, etc.
10. Burlap ribbon
Burlap ribbon is made of jute material for gift wrapping. And burlap ribbon is durable and washable. Then, it is natural and its color is hemp color. And we can add some decorations to the burlap hemp ribbon.
11. Tulle ribbon
There are many different types of ribbons. But, tulle ribbons are translucent and very fine in texture. And the colorfastness to washing is high. At the same time, it feels soft, smooth, and wrinkle-resistant. And the colors are very rich and almost all colors are available. Therefore, we can often see tulle ribbons in skirts, wedding dresses, gift box packaging, hair accessories, etc.
12. Glitter ribbons
13. Picot Ribbon
14. Gingham ribbon
A gingham ribbon is a tartan ribbon with a plaid or checkered surface. Its material includes cotton, polyester, linen, etc. They are soft to the touch, lightweight, and washable. And gingham ribbons have colorful colors to print. Meanwhile, it looks retro, stylish, and classic. And it also has a rustic feel. Gingham ribbons are great for preppy, British-style skirts, coats, and slacks.
15. Organza ribbon
Organza ribbons are transparent or translucent tapes. They have high washing fastness and bright color. And it doesn't fade and feels soft to the touch. The material includes snow yarn, nylon, polyester, etc. And we can print the brand logo, patterns, and text on it. Then, the size, color, and logo can be customized. But, different ribbon specifications or printing processes will result in different prices.
16. Jacquard ribbon
The jacquard ribbon is a garment-textile accessory. Materials include polyester/nylon/polypropylene/acrylic yarn, PP thread. And it has a fine pattern, smooth hand feeling, and good strength. Also, it is durable, has high color fastness, and will never deform. A jacquard ribbon is ideal for clothing, shoes, hats, shoulder straps, belts, gift accessories, etc.
In conclusion-different types of ribbons
The above 16 different types of ribbons are one of today's popular fashion elements. They are indispensable decorations in the clothing industry. And casual fashion is inseparable from it as an embellishment. If there is a little red in the green bushes, the ribbon is that little red. For detailed pictures, please turn to the article: garment tape.