Wholesale hang tag string snap lock fasteners bullet head, square shaped in stock. Custom hang tag string plastic seal with your LOGO.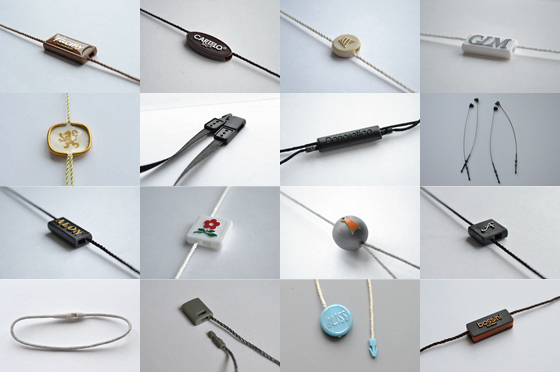 When we buy wholesale hang tag string snap lock, should pay attention to below items:
1, Functionality: The main functional role of hang tag string snap lockis to hang tags, so the snap lock and string must be firm. In order to cope with the packaging and transportation, the lanyard must bear a weight of at least 2kg.

2, Color fastness: hang tag string and tag is directly hung on the clothing, so the color fastness to color requirements stronger. The color fastness of hanging particles includes lines, plastics, hot colors, etc. Normal lines and plastics are not easy to fade after strict control. Simple test method: boiling water infuses 3-5 cents, and some foreign trade orders will require a professional inspection report. However, hot coloring is difficult to control. At present, even if the best imported color foils are not guaranteed to be non-fading, it is recommended to use electro-aluminum or black and white type of gold foils, which can protect droplets and transparent organics that require higher levels and require other colors.

3, Price selection: According to the grade of clothing and the acceptance of the factory to choose a different price, the general three-in-one, four-in-one, two-color and multi-color hang tag string's price is higher, combo, core pull, line buckle Class is cheaper.

4, Style selection: can refer to the above classification of style selection, hang tag string snap lock need to match with the tag into a set, so design and selection need to consider the style of the tag is basically the same, the best bags, brochures, tag, hanging tablets, etc. The entire VI design style and main colour are the same.