Hangtag design is about the image of a brand. We always emphasize the importance of custom hangtags for a brand on our pages. But why? The following can help clarify your doubts about how a hang tag affects a brand and how it connects the brand to the consumer. Whatever you call it, hang tag, swing tag, or hanging tag, it appears to be nothing more than a piece of cardboard cut into a fixed shape. However, it can play a unique role in branding and sales growth.
Why are hang tags important?
With the gradual strengthening of self-awareness, the proportion of money people spend on clothing has increased dramatically. The consumption of clothing brings about all kinds of hangtags. In the early days, the hangtags of clothing were single in style, backward in technology, monotonous in pattern, and boring in design, and people thought it was just an inconspicuous piece of paper attached to the clothes or goods. Not only consumers, including many manufacturers of goods or hangtags designers, think so.
With the rapid development of the modern economy, the rapid development of technology level, and the continuous updating of clothing style, the hangtag design also gradually presents the trend of diversification. Hangtag design has become an advertising and promotion medium to establish the image of products and brands, seduce consumers' psychology and stimulate customers' desire to buy.
When a customer identifies with a brand, the company will establish a deeper, more personal connection with that customer. Using a high-end custom hangtag assists consumers in positioning your brand as a premium brand. Your brand story, brand values, brand philosophy, and hangtag all work together to present your brand to each of your potential customers in a comprehensive manner. All of this happens during the customer's decision-making process, so the importance of hang tags is evident.
What role do hangtags play in branding?
Aesthetic worth
The design of the hangtag affects the overall appearance of the garment, acting as an effective accompaniment and complement to the main body; the unified and coordinated design also reflects the degree of specification of the goods.
Information role
The hangtag's product information, such as product composition, pricing, and size information, reflects the brand's commitment to consumers. Product information that is concise and accurate reflects the enterprise's sense of responsibility to consumers, which not only increases consumers' trust in the products but also plays a positive role in promoting the enterprise's image and improving the prestige of the products.
Promotion way
Hangtag form is flexible, convenient for consumers to choose freely when buying, and make judgments according to the brief information provided on the hangtag, without the interference of "mandatory" sales. Moreover, the cost of hangtag production is low, and it is not limited by the venue, time, and personnel, so it can effectively convey information about the products.
Anti-counterfeit mark
With the widespread application and development of anti-counterfeiting technology, some apparel hangtags now include novel and stylish anti-counterfeiting logos and barcode logistics logos, which improve commodity brand recognition and credibility.
How do the hangtags convey the brand idea?
The easiest and most direct way is to consider the usage of paper. Environmentally conscious brands using recycled paper for their hang tags can help add credibility to their brand; high-end fashion brands may need thick, luxurious paper to elegantly convey that the product is worth the investment.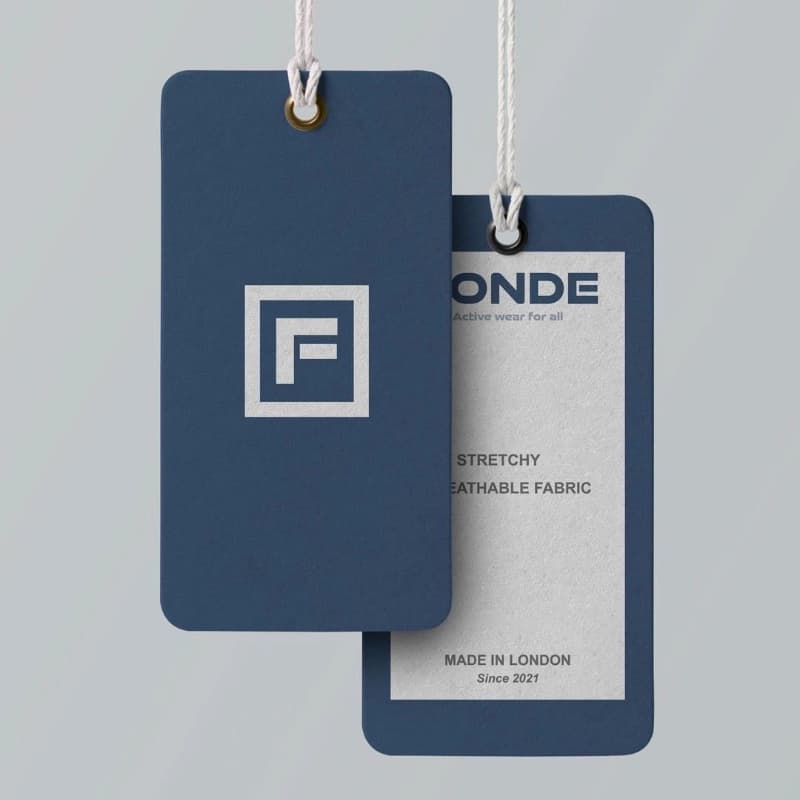 To instantly identify your brand, use advanced printing methods. Printing techniques such as matte lamination, gloss lamination, foil stamping, embossing, debossing, and so on can be used in reverse to demonstrate that you have thought of every detail. The attributes of the tag will also be associated with your product by the customer.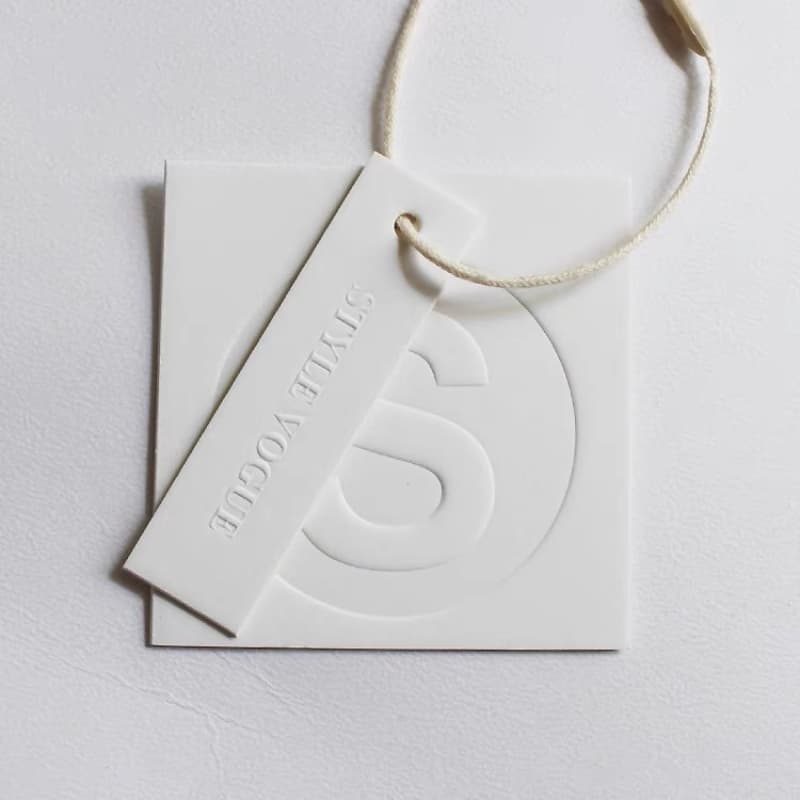 Improving brand awareness begins with the logo. It is the most direct way to communicate the brand name to customers. When buyers take the product home, the logo is very likely to contain all of the information they require. This also increases the trustworthiness of your brand.

Tips for Designing hangtags
If you own an apparel brand or are a hangtag designer, here are four simple tips to help you create eye-catching hangtags.
Modify the shape
Traditional rectangular hangtags no longer entice customers at first sight. Irregular die-cut hang tags provide you with a completely unique selection of shapes. They also have the greatest visual impact.

Select the material

Plastic, metal, fabric, leather, and other materials, in addition to paper, can be mixed and produce unexpected results. Metal labels are appropriate for garments that require durability, and their hard, luxurious texture adds color to the product itself.
Change the structure
Hang tags are never fixed. A tri-fold structure or booklet-like tag design can serve as a product brochure in addition to its primary function.

Match colors

Brands aimed at young people tend to use more vibrant colors. The hangtags of middle-aged and elderly clothing will attempt to use soothing white and gold color schemes. Children's clothing manufacturers are more likely to use contrasting colors, bright monochromatic colors, and so on.
Design with multiple functions
More functions for the hangtags, such as attaching spare buttons, sewing thread, and so on, or using them as coupons, will undoubtedly increase the chance of brand exposure. When doing branding, this can be used as a promotional point.

Free Design | Free storage service | One-Stop Purchasing
Design Custom Branded Hangtags