Printed paper bags are made of printed and laminated paper, a personalized paper bag with handles helps enhance purchase experience for your customers. They are an eco-friendly replacement for plastic bags. The ability to add your company name or logo is one of the strongest ways to instantly promote your brand when people carrying them around. From kraft printed paper bags for a boutique retail shop to mall-used shopping bags, our selection of printed paper bags offers a versatile selection of products for a range of industry needs.
These durable and sturdy bags are available with strong and twisted handles to ensure safe, easy, and comfortable holding.
They come in many types, ribbon handle, cotton handle, nylon handle, twisted paper handle. These paper bags with soft handles can easily carry shoes, boots, apparel clothing, coats, food, books, and other goods safely and securely. Moreover, they can also be used to pack beauty cosmetics, gifts, etc. to present on any special occasion.
Characteristics of printed paper bags:
Compared with other bags, printed paper bags boast more advantages that people can not ignore.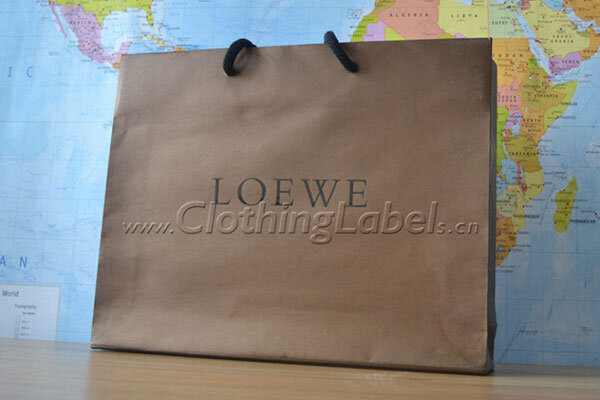 Tear resistance
They are completely suitable for general purpose use in any showroom. They are highly admired for their attractive appearance with a shiny surface finish. These bags have good tear strength and show superior moisture resistant property. They give the flexibility to be easily folded for strong in large numbers.
Easy to carry
Most of these paper bags can be folded. The primary purpose of bags is to convey small objects from one place to another. So handles are necessary parts of paper bags. We have wide options include pp rope, ribbon handle, twisted paper handle, and more.
Smooth finish of printed paper bags
If you need luxury paper bags, we also produce bags with silk and elegant feeling.
Printing methods of printed paper bags

Screen printing
It is the most popular printing technique. Screen printing is also called silk-screen printing. It can be utilized on a variety of materials of different sizes.
Foil printing
It uses heat, pressure, and metallic paper to create shiny designs and graphics.
Litho printing
It is the image you want to create is placed on a plate, then covers it with ink. This requires great ink.
Besides the printing methods listed above, there are also other methods to help you customize the most suitable printed paper bags. These bags are designed in different sizes and specifications that can be tailored according to the specific needs of the clients. Each Printed Paper Bag with handles is an opportunity to display your logo, your personality, and your products or campaigns. We are offering the range of Printed Paper Bags at reasonable rates.