Rhinestone iron on patches are beaded artificial diamond appliques on fabrics & plastic films, including letters, patterns for clothing, shoes, DIY, etc. Rhinestone is a kind of clothing accessory. It uses thermal transfer materials like hot bling drills, hot foils, hot sequins, and other materials to form a certain pattern. And it usually uses ironing paper as a transfer film. And we use a pressing machine to iron the decorative pattern on the garment.
They are artificial diamonds used in costume jewelry and to decorate clothes. According to the texture, there are crystal rhinestones, glass rhinestones, and Aluminum octagonal rhinestones. Then, their back is usually a hot melt adhesive bottom. We can iron directly from the rhinestones. After the glue melts, it can be attached. And they have wide use in clothing, bags, hats, shoes, accessories, home textiles, etc.
The hot-melt glue on the back of the high-density rhinestones sparkles like a star. After high temperatures, all kinds of interesting and lovely rhinestone patterns can be directly ironed on the jewelry. Such as handbags, headwear, mobile phone cases, etc. This really makes your DIY products shine and look more stylish!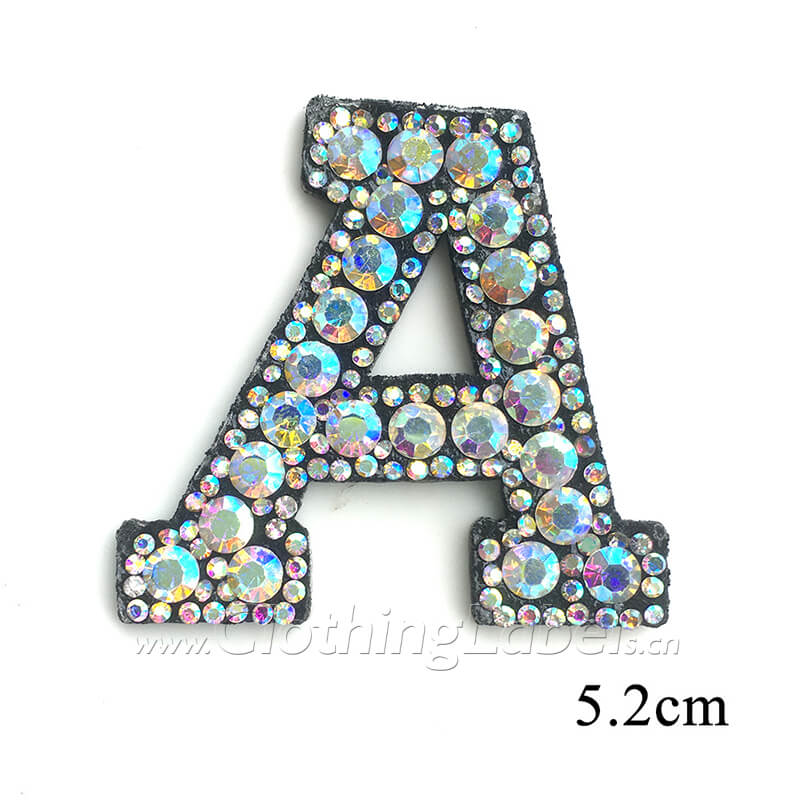 Details of rhinestone iron on patches
Material: all kinds of rhinestones, artificial pearl, satin cloth, PU, PET, laser film, etc;
Color: white, red, black, yellow, and other conventional colors;
How to use: Hot melt adhesive on the back. And we can heat them with a heat press machine, a pressing machine, or an electric iron;
Feature: 3D, Environmental Friendly;
Advantages: clear-cutting surface, good gloss, bling surface, rich color, firm glue;
Fixing method: needle and thread sewing / hot melt glue / E6000 glue or AB glue paste;
Classification by texture: crystal rhinestones, glass rhinestones, Aluminum octagonal rhinestones, etc;
Classification by origin: a: Korean rhinestones, b: Czech rhinestones, c: Austrian rhinestones, d: Middle East rhinestones, etc.;
Pattern shape: letters, butterfly, skeleton, star, heart shape, etc;
Transfer temperature: 140-150°;
Transfer time: 10 – 14 seconds;
Tear method: cold tear;
Specifications of rhinestone iron on patches
SS4-1.5MM; SS5-1.8MM; SS6-2MM; SS8-2.5MM; SS10-3MM;
SS12-33MM; SS16-4MM; SS20-5MM; SS30-6MM; SS34-7MM; SS40-8MM(the front SSXX is the rhinestone model, the back is the rhinestone diameter);
Flat-bottom rhinestone: specifications include No. 6 (1.9-2.0MM), No. 8 (2.3-2.5), No. 10 (2.8-3.0), No. 12 (3.2-3.3), No. 16 (3.8-3.9), No. 20 ( 4.7-4.8), No. 30 (6.3-6.5). The parentheses refer to the diameter of the rhinestones.

Applications of rhinestone iron on patches in daily life
We specialize in the production of rhinestones and hot stamping patches. First of all, we have a variety of color specifications for you to choose from. And you can engrave any pattern. Second, the product can be sewn or hot melt glue. The rhinestone iron-on patches have a solid 3D effect. And they can refract light, which has a special effect. Therefore, it is suitable for denim, backpacks, plush toys, crafts, gloves, umbrellas, phones, masks, etc.
Besides, we can use them for shoes, vases, and caps decoration. Of course, they are perfect for all kinds of jewelry, accessories, hats, or bags as ornaments. At the same time, you can also stick them on your face and nails. You can not only DIY but decorate the car. Then, it is also a very good decoration for home textiles.

Rhinestone iron on patches' process
Hot diamond(rhinestone) technology is to set diamonds on leather, cloth, and other materials. We often use rhinestone iron-on patches on fabrics, clothing, or fabric accessories. The working principle is that when the rhinestone encounters high temperature, the adhesive layer at the bottom of the drill melts. So, it sticks to the object.
Because most diamonds are crystal or glass. Thereby, they are not afraid of high temperatures. Common temperatures are around 150-200℃. At present, rhinestone on clothing has become a fashion trend. Moreover, as a kind of garment accessories, they can add beauty and value to the clothes.
How do we judge the quality of rhinestones?
1. Check the appearance:
First look at the cutting surface of the rhinestones. The flatter the cut surface, the higher its refractive index and the better the brightness.
Next, see if the cut surface is even. Incised teeth, scratches, and air bubbles are defective products.
The rhinestone patch has strict requirements and a complex process. But, the yield is not very high. Diamonds with a defective rate of 3%-5% should be considered good products.
Then see if the diamonds are the same size. The diameter of SS6 is 1.9-2.1mm. While the size of SS10 is 2.7-2.9mm.
Finally, you should also see whether its height is consistent.
2. Look at the adhesive
Flip the diamond over to see the color of the adhesive on the back. See if the color is even and consistent. And the color can't be in different shades. If it is vibrant and uniform in color, it is a good diamond.
3. Check the firmness
The higher the solubility of the back glue, the better the firmness of the rhinestone. The best way to identify a diamond is to wash it in the washing machine after it has been ironed. So, if the adhesive does not come off after washing, it proves that it has good fastness. After washing it off, it proves that the firmness of the glue is not good.

Tools needed for rhinestone iron on patches
There are mainly 4 types of machines used for diamond settings. They are ultrasonic hot drilling machines, ultrasonic spot drilling machines, ultrasonic nail drilling machines, heat transfer machines, etc.
Types of rhinestone iron on patches by origin
Rhinestones include Korean rhinestones, Middle East rhinestones, Czech rhinestones, Austrian rhinestones, etc.
Korean rhinestones
Korean rhinestones have no variegated flakes. The cut surface or spherical surface and the color are uniform. Then, it has excellent washing fastness. And the color is pure, the cut is even, and the price is low. Clothes with diamonds on the market for $15 or so are basically made of Korean rhinestones. But, it is not very firm. Clothes that use rhinestones are not very shiny in the sun.
Middle East rhinestones
Middle East rhinestones are firm and not easy to drop. There are many cuts, and the price is in the mid-to-high end. Their consumers account for over 40% of the market. So, it is the most cost-effective type. Depending on the fabric, the size, and complexity of the diamond pattern. Its price in the market is between 22-60 US dollars.
Czech rhinestones
Czech rhinestones have high brightness and no variegation. They have a relatively uniform cut surface and color. Their brightness of them is slightly better than that of Middle East rhinestones. The biggest disadvantage of them is that they do not last long. The price of Czech rhinestones clothes is about 45-140 US dollars.
Austrian rhinestones
Austrian rhinestones (Swarovski) have high brightness and no variegation. And the cut surface and color are very consistent. And they are one of the best quality of all diamonds. But, its price is high. The cost of an ordinary Austrian hot drill short sleeve may be more than $230.
FAQs
1, What's the price?
–The price depends on your custom size, color, technics, and quantity. You can send us your art file, we make a free design for you.
2, What is the bulk production time and shipping time?
–Bulk goods are about 10 to 20 days. Shipping time is 3-6 business days by express.
3, What profile is needed when production?
–Pls, send us vector logo files, like PDF, AI, ESP, CDR, or original files from PSD. If you have no art file, we offer free design for you.
4, Can we get free samples?
–Yes, you can. Our samples are free, you just need to pay the shipping cost.
5, What is the order process for getting the custom rhinestone iron on patches?
–First, we need to discuss basic information with each other. Such as size, color, material, quantity, technics, etc. Then our product expert will give you the price and invoice. Then, you can pay. After you pay, we will make the design for you. After you confirm the design, we can arrange the bulk production. The production time is about 5 to 15 business days.
You may also like
Quotation
You can send us your logo or your design if you have one. If not, we can provide a free design for you.
Please tell us the customized quantity, color, size, and logo pattern, and then we will give you the specific quotation(price).
Here you can learn more from 9 different types of patches.
Free Design | Free storage service | One-to-One Support | One-Stop Purchasing
Get your own personalized rhinestone iron on patches
-We are custom patch maker and wholesaler
Our Patch Experts will guide you through every step of the custom process.