We supply custom sticker hang tags for clothing brands, it built customized stickers into your existing hang tag needs to give added value to your apparel. It is the hang tags. With clothing stickers on it. This is one unique way to show your products. Adding a sticker to your hang tag is a great way to show off your brand. We can make custom sticker hang tags to match brands.
Our custom stickers are made of quality material. Thus, it helps to protect the stickers from fading over time. Besides, we make high-quality, vibrantly colored stickers. For customers, these stickers help promote their brand. Hence, use these hang tag stickers for any sort of product. Sticker peels from backing when the customer is ready to use it. And we can apply unique adhesive to surfaces. So, you won't leave behind residue when removed. They were easy to peel and super sticky! The thickness of these stickers is surprising.
Our sticker hang tags have custom printing on the thick paper backing. But, they print full color on durable gloss laminated. As with regular clothing hang tags, you can add size, logo, name, price, etc. In addition, they can be kiss cut and die-cut to any size and shape. And compared with die-cut stickers, kiss-cut stickers are easier to take from the backing. Therefore, we drill out the hanging hole for easy hang into the apparel. Again, we came out as the client wanted with a custom cut line. Then turn your sticker hang tag into reality. We can take any custom sticker design and turn it into a sticker hang tag.
Photo Reference of sticker hang tags: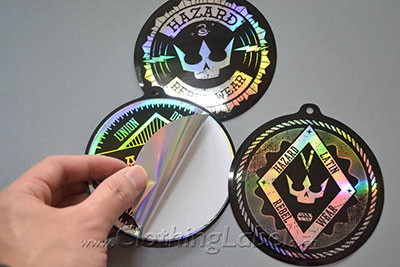 Details of sticker hang tags:
1, Material: Vinyl;
2, Shape: Square, Rectangle, Circle, Oval, etc;
3, Any size and any color are available;
4, Craft: kiss cut and die cut;
5, MOQ: the minimum quantity is 100pcs.
Quotation:
Reference sample from sticker hang tags photo gallery or other places.
Feel free to contact us to get more information about the price.
We offer free design of your logo. You can send us your art files and we will make them at your request.
Contact us by Email or WhatsApp