We make and wholesale custom printed Tyvek tags and labels, suiting printed wash labels, hang tags, clothing, jewelry, luggage, plant, textiles, or envelopes. Any Tyvek tags & labels can be printed with brand logos. You can design and customize your own personalized colored tags in rolls. Available in any shape, color, or size.
Tyvek tags are durable and resistant to deformation. It is not only waterproof and breathable, but eco-friendly and tear-resistant. It combines the advantages of paper, film, and cloth. If you want to customize wash labels, and clothing hang tags, then Tyvek tags are your ideal choice.
Details of Custom Tyvek tags & labels
Material: DuPont paper; thick non-woven fabric; polyester; single or double-sided printing; available in rolls;
Features: Waterproof, lightweight, durable, environmentally friendly, non-toxic, non-irritating;
Type: wash labels, printed labels, size labels, stickers, Envelope, etc;
Process: screen printing, flexo printing;
Size: any size and shape can be customized;
Price: according to your quantity, size, craftsmanship, logo file, color, etc.
Product use: for textiles or craft decoration such as clothing, luggage, shoes & hats, keychains, coasters, quilts, sofas, chairs, pillow cushions, etc.;
MOQ: 100pcs.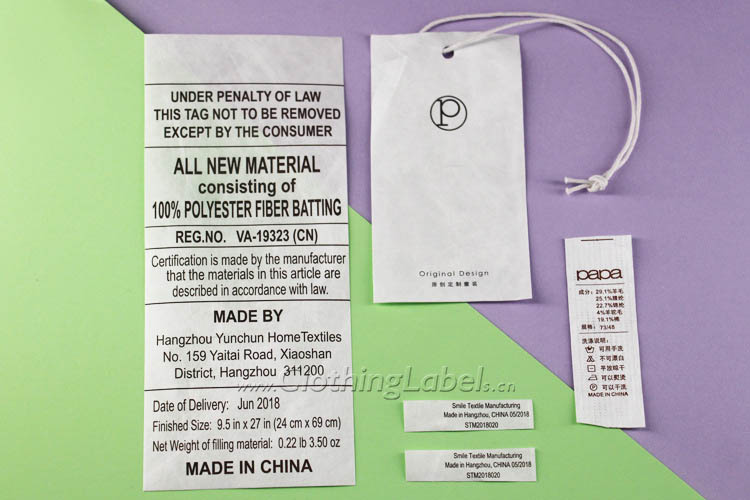 Custom tyvek tags – for printed labels, hangtags, stickers
Tyvek tags & labels look like A4 paper. But, they are waterproof and dry quickly. It stays put even after washing and rubbing many times. The Tyvek tag is a premium clothing label. It can print brand logos, company names, QR codes, patterns, etc. The printing is clear and the surface can be written.
Besides, they are suitable for clothing wash labels, side labels, swing hang tags; trademarks, underwear labels, etc. Besides, they are perfect for home textile products and high-end custom envelopes, stickers, packaging bags, etc.
Advantages of Dupont(Tyvek) paper
Products made of DuPont paper can use for many products in life. Such as clothing labels and tags, desiccant & medical packaging, down lining, envelopes, packaging materials, car jackets, etc.
1. Good protection ability: good liquid blocking protection function.
2. Waterproof and breathable: porous material with good breathability;
3. Excellent bacteria-blocking effect: can be applied to the packaging of sterile medical products
4. Excellent flexibility. Folding resistance;
5. Durable and good for health. It will not cause air pollution. It is a good eco-friendly material. After complete combustion, only carbon dioxide and water vapor are produced;
6. High strength with tear resistance;
7. It is a light texture and can be printable;
8. -73℃ always keep paper soft;
Tyvek (Dupont) Paper for printed labels below
You can use Tyvek(Dupont) paper to customize any unique printed labels and tags for your clothes, shirts, and home textiles. Such as size labels, wash care labels, and main labels. All these labels can be printed with colorful logos, patterns, etc. Send us your logo design file to customize Tyvek labels in any style now!
Where can Tyvek tags be used in daily life?
1. Clothing hang tags(swing tags)
2. Clothing labels: printed labels, size labels, wash labels
3. Bedding labels
4. Plant label
5. Mattress Label
6. Gas tank label
7. Ski label
8. Archive labels
9. Law labels
10. Envelope
11. Wristband
12. Colorful paper
13. Paper bags
14. Ethylene oxide sterilization bags
15. Car sun shield
16. Outdoor display board
17. Map
FAQs
1. What is the difference between DuPont paper and Kraft paper?
-The tags made of DuPont paper will be special and a little translucent. And it can be printed in a variety of beautiful colors. Tags made of kraft paper will be more retro, but opaque. The color print is not as many as DuPont paper.
2. How is DuPont paper printed?
-DuPont paper can be printed with a variety of printing techniques. Such as offset printing, letterpress printing, flexographic printing, gravure printing, digital printing, UV inkjet, etc. At the same time, it is suitable for various processing techniques. It can also be easily coated, folded, glued, laminated, perforated, sewn, and heat sealed.
3. What are the distinctive features of Tyvek tags?
a. Waterproof, breathable, and lightweight
b. Strong, tear-resistant, puncture-resistant
c. Anti-bacterial, anti-ultraviolet
d. Resist 100℃ high-temperature
e.100% recycling
f. Can be printed and processed by various processes
4. What's the MOQ of the Tyvek tags?
–100pcs.
5. What is the bulk production time?
–7-15 business days.
6. What is the shipping time?
–3-6 days by express.
7. Is sampling available? Sampling time?
–Yes; 5-7business days.
8. What profile is needed when production?
–Please send artwork in CDR, ESP, AI, or PDF format.
Free Design | Free storage service | One-to-One Support | One-Stop Purchasing
Custom Tyvek tags & Labels maker|wholesaler
Our Product Experts will guide you through every step of the custom process.