Acid-free tissue wrapping paper means that the pH of the paper is 7.0 (neutral) or higher (alkaline). Under normal use and storage conditions, the life of acid-free paper can reach about 200 years. (Are you sure that your paper really needs to be kept for so long?)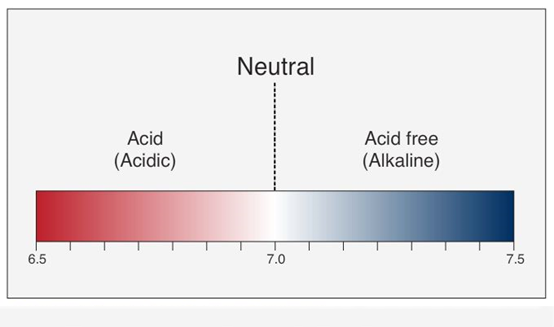 At present there are three main uses of acid-free tissue wrap paper:
The first used as the photo output medium. The output of cotton acid-free paper can fully meet the output requirements of the collection level. While color output is performed, the color is calm and elegant, implicit and saturated, and hierarchical. Clear transition, a strong sense of presence.
The second used as an acid-free paper file box that more used for file storage.
Third, used as a preservation or packing paper for the museum items which need to be kept for a long period of time, such as Chinese "Wenfang Sibao", painting and calligraphy, etc.
We make custom wrapping paper, please let us know your size, color, logo or design, and quantity, we hope to provide you our best quality and professional service.
Tissue paper belongs to the high-technique industry paper, featuring in high intensity, evenness, transparency. Flat, smooth, colorfast, dust-proof, It is good for packing clothing, shoes, tools, leather-wares, articles, red wines, cosmetics, and making DIY flower balls at weddings.
What the other materials for wrapping paper except for 17g tissue paper?
80g coated paper, 28g typing paper, 24g wax paper, cotton paper, 30g craft paper, etc.
1, Tissue paper
Most used is 17g tissue paper, has good transparency and uniformity.
Act as moisture-proof, breathable, protect, finalize the function.
Mainly used as the packing for clothing, shoes, cosmetics, wine, crafts, hardware, leather goods, umbrellas, etc.
2, Wax paper, also called semitransparent paper
It can be divided into 24g, 26g, 28g, 30g by gram, also can be divided into off white wax paper and bleached wax paper. Different colors can be also dyed according to the requirements of the product.
Off white wax paper has certain oil proof effect, can be used as packing for food, like bread, steamed bread, hamburgers, etc.
Bleached wax paper often used as packing for tool, decoration, watch and china, etc.
24g off white wax paper looks warm yellow and better gloss than 17g tissue paper. Comparatively speaking, it is the most transparent wrapping paper.
Wax paper can be also as high-grade clothing, shoes, cosmetics packing.
3, Typing paper
Typing paper is a kind of thin paper (less than 0.05mm) for typing, copying, document, vouchers, and forms have white and all sorts of colors. It can be divided into special, 1 and 2 grades, 24g to 30g by gram. 28g is the commonest weight.
White typing paper looks more milk-white than 17g wrapping paper. It is more flexible, smooth, and clean, and can better protect the shaping effect, so as to make typing without holes.
4, Cotton paper
Made of bast fiber of trees, white, soft and ductile, and slender fibers such as cotton, so-called cotton paper. It can be divided into 17g, 22g, 28g by gram, features are a single surface smooth or matt, soft and evenly, good tension and ink absorption, good moisture-proof performance, and air permeability.
The printing effect is more exquisite. Main used as high-grade print packaging.
5, Kraft paper also called tracing paper(sulphate paper)
Weight from 55g to 285g. High transparency, no distortion, paper purity, no acidity, anti-aging, permanent preservation of yellow, high strength, scratch-resistant, good ink absorption.
More used for clothing hangings and clothing paper bags, as well as wrapping paper, especially for CAD construction and engineering drawings.
30g craft paper most used as wrapping paper. In comparison, the price is relatively expensive and the toughness is better among these wrapping paper. But the thickest wrapping paper is 65g craft paper, which has the best toughness, resistance and protection function, of course, the price is the most expensive.
Quotation:
1, Reference sample from wrapping paper's photo gallery or from other places.
2, The quantity MOQ: 3000 sheets
3, Your logo or your design of tissue paper if you have.