Wine box packaging, as the name suggests, is the outer packaging of wine (red wine). It can protect red wine for convenient transportation and storage. At the same time, from a certain point of view, it is beneficial to the sales of wine (red wine). Liquid beverages like red wine need high-end packaging to convey product positioning. When customizing wine box packaging, various brands need to focus on the material, color, design, etc. Here is the ultimate guide to wine box packaging. Hope the article can help you well.
Classification and design features of red wine box packaging
1. Wooden wine box
It usually includes log wine boxes (like pine, paulownia, etc.) and imitation mahogany wine boxes (like MDF, etc.). Then, they come in various shapes and are mostly used for middle and high-end wine packaging.
Wood is the most used material in the production of wine packaging boxes. Among them, the amount of pine wood ranks first. Because the material of pine wood is strong, strong and lasts for a long time.
The red wine wooden box is the most important. Therefore, the red wine packaged in this material must match its identity.
2. Leather wine box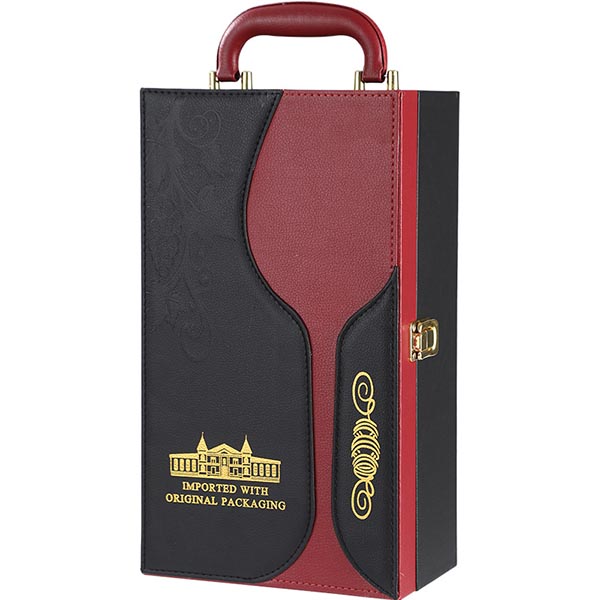 Red wine leather boxes are mostly made of PU, PVC, and other artificial leather. Leather packaging is more suitable for the character of the wine. In terms of capacity, it includes single-pack, double-pack, and multi-pack.
The demand for leather wine boxes is also very large. And we often combine it with wood. The inner layer is made of wood, and the outer layer is wrapped in leather.
In general, we will not use leather wine boxes alone. Often, we use it together with wooden packaging to position high-end red wine.
3. Wine carton
Wine cartons mostly use cardboard, corrugated paper, special paper, and so on.
The raw material is paper, which is convenient for secondary recycling.
Moreover, their shapes are diversified, which is convenient for processing. So wine cartons have wide use in wine packaging. Whether it is the packaging of red wine or liquor, paper is always an important packaging material.
The paper is very malleable. At the same time, the paper box with a certain hardness also gives people a high-end atmosphere. Moreover, the paper wine box is very suitable as a gift box.

4. Oak barrels
The purpose of storing wine in oak barrels is to allow the wine to fully absorb the essence of oak. It then imparts a degree of oxidation to the wine. The type and quantity of substances absorbed by wine and the degree of oxidation directly affect the senses of wine. And a lot depends on the choice of oak barrels. Therefore, the first thing a winemaker should do before making wine is to choose a suitable oak barrel.
3 kinds of materials of paper wine box packaging
In the choice of packaging materials, paper boxes (cartons, paper tubes) still play a dominant role. The proportion of red wine wooden boxes, plastic boxes, and metal materials has increased compared with the past. But, we still seldom use natural materials such as bamboo, willow, and grass.
According to the different grades of alcohol, the selection of paper wine boxes materials is also different:
(1) Low-grade wine packaging boxes
Use more than 350 grams of white cardboard to print the film (plastic film) and die-cut it. Slightly more high-end ones use 300 grams of white cardboard to be laminated into paper cards. Then they are printed, laminated, and die-cut.
(2) Mid-range wine box packaging
The printing surface mostly uses about 250g-300g aluminum foil cardboard. They are commonly known as gold cards, silver cards, copper cards, etc.). Then, we laminate it with about 300 grams of whiteboard paper to form cardboard. Preferably, we print, laminate and die-cut to shape.
(3) High-end wine packaging and gift packaging boxes
High-end wine packaging boxes mostly use cardboard with a thickness of 3mm-6mm. Then, we can manually mount the outer decorative surface and glue it into shape.
Components of wine box packaging
Nothing drives product sales like wine packaging. An excellent packaging box can cater to customers' aesthetics through the design of the packaging box. Although many people are now controversial about the view of "judging people by their appearance". But, when it comes to selling wine, a lot depends on how the wine looks and what it presents to potential customers. The appearance of red wine is mainly reflected in the red wine bottle, wine labels, and wine packaging box.
Wine bottle
The first part of a wine brand's look is defined by its packaging. In most cases, a wine bottle is just a container. Its shape is also conventional, elongated, and streamlined. However, there are exceptions.

For example, the design of the red wine bottle of "Blood of Grape" is designed from the perspective of "anatomy". It adopts a "heart" shape in appearance, which is very eye-catching.
After all, the special appearance can attract the attention of more young consumers.
Wine packaging box
Red wine lends itself very well to gift-giving. Products with exquisite red wine packaging boxes are obviously more popular with consumers.
In addition, red wine with packaging boxes is more convenient to carry than ordinary red wine.
Whether it is in transportation or on the way for customers to buy and take home.
Therefore, this is more able to ensure the safety of red wine.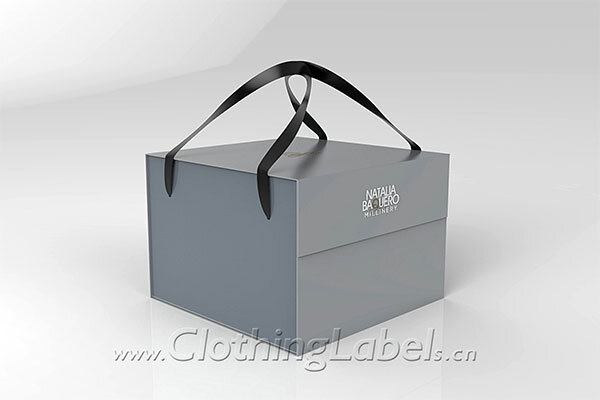 Wine labels
Traditional paper label design plays an important role in product sales. From the design of the label, you can feel the traditional way of brewing red wine and the ancient history of the winery.

It's not just about the appearance of wine packaging. It is also a symbol of brand image. Therefore, many old wineries also like to add retro and traditional elements to the label design.
There are also some brands that like to customize metal wine labels. This kind of label is more luxurious and high-end. So, it's perfect for red wine, champagne, whiskey, etc.
How does the red wine box packaging attract customers' attention?
Choose the right material
Packaging cartons are one of the most popular and cost-effective material choices now. However, consumer demand for eco-friendly product options continues to rise. Packaging cartons also provide brands with a good opportunity to showcase eco-friendly products.
Our commonly used paper is produced by pulping wood. Such as coniferous wood (spruce, red pine, Masson pine, larch, etc.) and hardwood (birch, poplar, etc.). Although trees are renewable resources, their growth cycle is relatively slow.
Many types of grass (bamboo, bagasse, reed, etc.) and bast plants (jute, flax, flax, mulberry, etc.) have shorter growth cycles. In addition to using plants to produce paper, it is also possible to pulp paper from recycled waste paper.
Correct use of wine labels
Red wine is different from other products. Wine packaging boxes can be used to protect products from damage and attract the attention of potential users.
As for the information about red wine, most of them are displayed on the label. Labels can also play a central role in the sale of products. It helps the user to provide all the information about the product when buying wine.
Red wine as a collection should also consider whether it can stand the test of time when choosing label materials.

Unboxing experience
When you're excited about creating a memorable label design, don't overlook the unboxing experience. Innovative label design and well-chosen packaging materials can inspire potential customers to try your drink. However, the unboxing experience of the wine packaging box can improve the influence of the brand in the minds of customers.
Helping create the right atmosphere is very important for wine lovers. Think about the emotional response you want your customers to have when they open a case of wine. Then design accordingly.
Here in Acctrims, you can customize:
In Acctrims, we supply and wholesale: wine packaging boxes/bags, wine labels(materials include: alloy metal, paper), wine wrapping paper, wine swing tags, etc.
Wine box packaging: FAQs
1, What is the price to customize 500pcs wine boxes with my logo?
-The price depends on your custom size, color, technics, and quantity. Prices are not fixed. It needs our business expert to calculate according to your specific needs. You can request a free quote via online service, email, or the quote button.
2, Can the box and bags be sampled?
-Yes, we can make samples according to the customer's drawings, designs, and real samples. Samples are subject to a certain sample fee. The specific price needs to refer to the packaging process, color, size, quantity, etc.
3, What are the sample production time and mass production time?
-Sample production time is 10 to 15 days. Mass production time is 15-20 days.
4, What is the shipping time?
-Shipping time is 3-6 business days by express.
5, What profile is needed when production?
–Pls, send us vector logo files, like PDF, AI, ESP, CDR, or original files from PSD. If you have no art file, we offer free design for you.
6, What is the order process?
–First, we need to discuss basic information with each other. Such as size, color, material, quantity, technics, etc. Then our product expert will give you the price and invoice. Then, you can pay. After you pay, we will make the design for you. After you confirm the design, we can arrange the bulk production. We offer free design and worldwide shipping.
7, Can you make other products' packaging, except red wine?
-Our packaging boxes do not limit products. We can do any product packaging. Such as clothing, cosmetics, jewelry, gifts, electronic products, luxury goods, accessories, health food, tea, textiles, etc.
Free Design | Free storage service | One-Stop Purchasing
Supply custom wine box packaging for brands