In the summer hot weather, the must-have clothes for people who go to work are probably a suit. A neat and atmospheric suit will make people capable and energetic. And the choice of fabric materials has a great influence on the effect presented. So do you knowhow to choose suit fabrics? There are 6 best suit fabrics for summer, such as Flax fabrics, Cotton fabrics, Extrafine merino wool, Mohair wool blend, Seersucker fabrics, Mohair fabrics.
6 best suit fabrics' materials for hot humid weather in the world
Flax fabrics
Cotton fabrics
Extrafine merino wool
Mohair wool blend
Seersucker fabrics
Mohair fabrics
1. Flax fabrics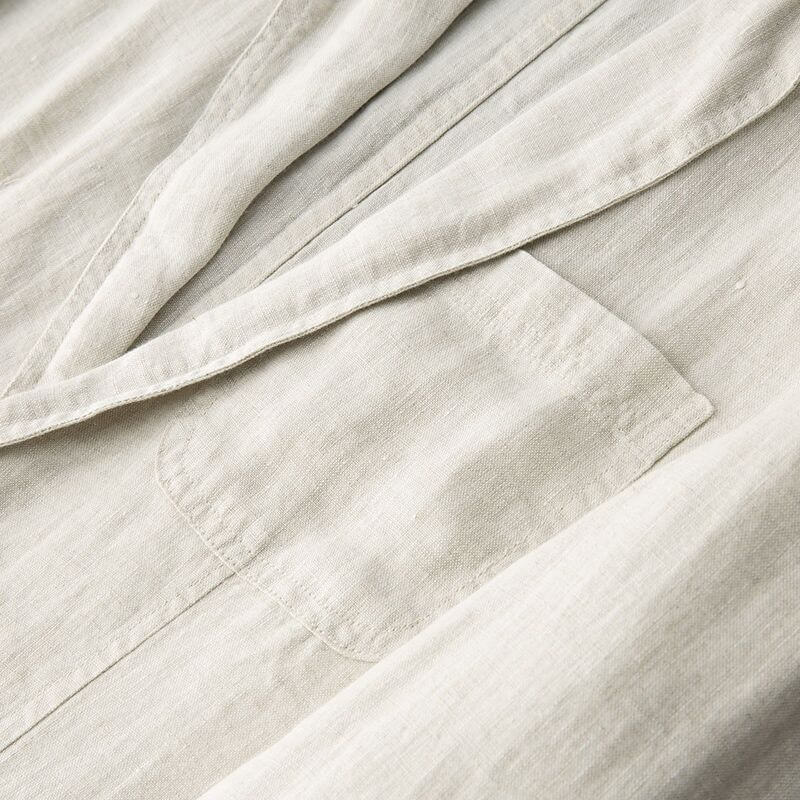 One of the best suit fabrics for summer is linen. I believe everyone is familiar with it. It has many advantages. Such as ventilation, perspiration, and a cool feeling when it is close to the skin. And there is a sense of leisure going on vacation. However, linen fabrics are known to wrinkle easily. As long as you go through it once, the joints are hard to iron flat. So if you don't mind the casual folds. Linen would be a very good choice.
Flax is a natural plant fiber. In summer, clothes made of natural linen have a certain sweat-absorbing effect. The suits of general fabrics are mostly wool. However, linen is stronger than wool. And it's also less prone to tearing and damage. So, linen is very comfortable to wear. Also, we will not feel sticky and stuffy after being outdoors for a long time.
2. Cotton fabrics

Cotton fabric has wide usage. It absorbs sweat, is more breathable, and doesn't create irritation. Then, it is more affordable by comparison. But all cotton is easy to wrinkle and not straight enough. Once made into a suit, the joints will also be whitened. So, if possible, please choose white cotton trousers. And we know people can easily accept Khaki. So it will be fire to make Khaki suits.
In fact, cotton suits have plenty of colors. Because it dyes very well. So it has any color you can think of. As long as it is made of 100% cotton material, it will be very comfortable. It is breathable and smooth.
Pure cotton fabric has a delicate touch. It is the ideal fabric for summer casual business suits. Also, we can add a little man-made fiber. This will greatly increase the lifespan of the suit. And it will make it easier to care for. Besides, if we customize some suit fabric labels and swing hang tags, it will enhance your brand image.
3. Extrafine merino wool

Extrafine merino wool is the lightest of the worsted wools. At the same time, it is meticulous, soft, considerate, and comfortable. And it also has good moisture absorption and elasticity. Meanwhile, its texture is loose and the breathability is strong. Thus, it is very suitable to wear in hot weather.
4. Mohair wool blend

There are many advantages to mohair wool blends. Such as strong elasticity and high wrinkle resistance. And its breathability is better than ordinary wool. Except that, it has a luster like mulberry silk. The appearance of mohair solves the shortcoming. Because summer suit fabrics are easy to wrinkle. This is really a very high-end-looking fabric. And it can be one of the best suit fabrics for summer.
Also, mohair wool blend suits are breathable. Because mohair has a strong sense of fur, adding wool, the suit made will be more comfortable.
5. Seersucker fabrics

Seersucker is made of light muslin. It is a special fabric. There are bumps and small bubbles on the surface. The seersucker feels good, comfortable. And it is skin-friendly. Due to the uneven surface, it does not fit snugly. Therefore, the suit made of seersucker has a sufficient sense of space. Moreover, it has good air permeability and a strong cooling feeling. It is also for this reason that it has a more retro texture.
Pairing seersucker with solid color overalls or trousers looks relaxed, cheerful, and casual. Besides, it does not need ironing after washing. So I think it is a suitable suit fabric for summer. Then, seersucker can also make a wide variety of women's summer clothing.
6. Mohair fabrics

Mohair can absorb moisture. It feels very cool and dry to the touch. Even with sweaty hands, it doesn't feel sticky at all. The surface is very smooth and it produces a silky sheen. Because the wool is very light, so the woven fabric is also very light. Fine mohair is very breathable, so it's perfect for summer. We can use it to make suits, trousers, and other summer clothes. Of course, it is ideal for curtains, knitting, sweaters, blankets, decorative lace, etc.
These kinds of fabrics above suit summer suits. Many people think that wearing a suit in the hot summer will be too stuffy and too hot. In fact, they just didn't choose the right fabric for the clothes. Suits in some fabrics are breathable and comfortable to wear in summer. In summer, pure mohair is less used for suits. In general, we mix it with other fabrics. This creates a cooler and more comfortable fabric.
Notes for the best suit fabrics for summer
We should maintain clean suits at a regular time. Please note that a suit should not be worn continuously for too long. After wearing it for a long time, the suit will be deformed due to local force. Moreover, after the suit has been worn for a period of time, please take out the items in the pocket first.
Then, hang it on a wooden or suit-specific hanger. Put on a dust jacket and place it in a ventilated, dry and cool place in your closet. This will help the fabric return to its original shape. Finally, don't wash suits very often. It is best to wash it every 3 to 4 months. And it is best to dry clean.