Custom woven labels with logos are woven fabric labels for clothing as main labels or neck size labels wholesale, materials include damask, satin, taffeta, etc. They contain information such as text, letters, and logo patterns. Custom woven labels can not only express the brand name and connotation. But show the product size, origin, composition, and description. Therefore, it is ideal for clothing, shoes, hats, bags, and home textiles.

3 main custom woven labels materials
After you determine the size, color, and quantity of the custom woven labels, you can choose the woven label's material. There are 3 main materials as damask, satin, and taffeta fabrics.
Damask
The surface of the damask material is smoother and brighter. It is the most commonly used material in custom woven labels. Damask woven label is one of the computerized woven labels. It is a high-quality woven label. And its threads are thinnest which can show fine details. Besides, the surface is more soft and durable. So, it will not irritate your skin.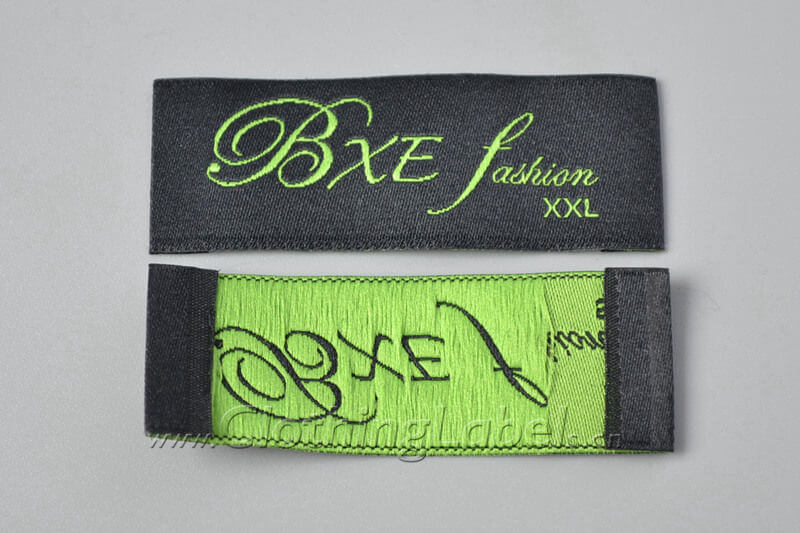 Satin
Satin material is a type of selvage label that has a smooth surface and selvage-like silk. It looks advanced overall. But the satin thread is a bit thick. If the text is bold, the surface seems to fill the small holes. But if the text is thin, it's not noticeable. If you mind the small hole finish, we recommend you choose the damask woven label.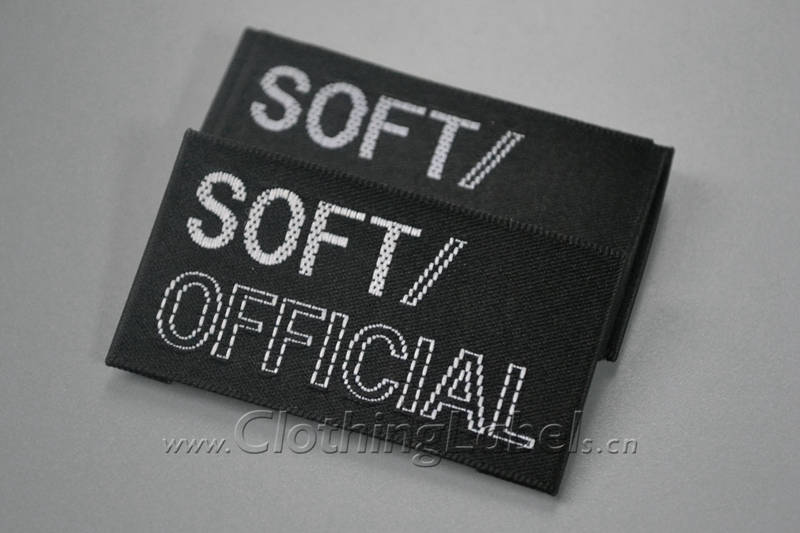 Taffeta
Taffeta's needle thread thickness is between damask and satin. It is also a type of satin. Taffeta woven labels have limitations. However, they are very durable. Therefore, they can withstand intense washing and abrasion. Taffeta woven labels are cheap and of good quality. So, it is more suitable for rougher clothing surfaces. If it is silk clothing, it is not recommended to choose taffeta.

What should I use custom woven labels for?
If you want to get a lot of attention, you can customize a woven label that highlights your brand positioning. If you run a brand of shirts and T-shirts, such as T-shirt cuffs, shirt hem, etc. you can opt for custom folded woven labels. Such as manhattan fold woven labels. Then, the clothes will be very comfortable and soft to wear. And a mitre fold custom woven label suits pullovers, lightweight coats, shirts. But, if you what to know more about fold options of custom woven labels, please refer to the article on fold labels.

The custom woven labels are woven on the machine of woven labels by fixing the warp yarn and using the weft yarn. The raw material of the warp yarn is polyester yarn. And its color is mainly black and white. In addition to polyester yarn, weft yarns include cotton and nylon yarns. The colors are diverse, and the marking patterns formed are rich and colorful.
The yarns express text, graphics, letters, numbers, three-dimensional signs, color combinations, etc. It has the features of high-end, firmness, bright lines, soft feel, and so on.
Custom woven labels attract customers by unique design and texture. Besides, we have professional machinery to provide you with high-quality clothing labels. Retailers who seek quality labels or craftsmen who seek durable and beautiful labels are in the right place. We are a professional company specializing in the production of clothing labels. If you have the need, you should know how to make custom woven labels.

What are the custom woven label types during use?
The main woven labels. They are suitable for the main collar label on the clothing neck or trousers;
Fold in half woven labels. It is often used for decorative labels on the side seams and coating edges of clothes;
Woven wash labels. We add washing instructions inside the garment;
Woven size labels. There are men's and women's clothing, children's clothing as well as upper & lower clothing. Such as 150/70A S, 175/75A XL, and so on.
Decorative labels. They refer to all kinds of woven badges, sleeve labels, trouser pocket labels, etc.;

How to order the custom woven labels?
First, please contact our salesmen. If you have any problems, our salesmen will help you and give you some advice. Then, you need to send your artwork or label style to our email. If you don't have one, our professional designer offers free design. And tell us your quantity and whether you need us to make a sample for approval or not.
Second, we will quote the price once receive your details.
Third, we will manufacture labels for you.
Then, we will deliver these labels to your aimed destination.
But there are some details that need to pay attention to if you want the sample before production. The sample charge of woven labels is 30USD without freight charge. We can send you the sample picture for your approval once the sample finishes if you want to save the freight charge.
Quotation
1, Reference sample from the photo gallery of custom woven labels above or other places.
2, The quantity: our MOQ is 100pcs.
3, You can send your art files to us or get our help for free design.

Contact us by E-mail or WhatsApp