A jacquard ribbon is a patterned ribbon that uses a trendy webbing craft to weave on a jacquard loom with text, and it is a garment-textile trim or accessory. Materials include polyester/nylon/polypropylene/acrylic yarn, PP thread. And it has a fine pattern, smooth hand feeling, and good strength. Also, it is durable, has high color fastness, and will never deform. A jacquard ribbon is ideal for clothing, shoes, hats, shoulder straps, belts, gift accessories, etc.
The jacquard ribbon is the highest-grade webbing variety. Its appearance is 3D and exquisite. In addition, we can add all kinds of beautiful and vivid patterns. The brand logo on the jacquard ribbon is visible, bright, and high grade. So, this can increase the product's added value and enhance the brand image. Here you can learn more about different types of ribbons.
The jacquard ribbon pattern is meticulous and will never fall off. And we use imported nylon yarn and eco dyes. Then, we use state-of-the-art computerized jacquard machines. So, we can produce single-sided or double-sided jacquard ribbons. The finished webbing ribbon has an excellent feel and bright color. And it has no abrasion to the fabric. So, it is suitable for shoulder straps, belts, and lanyards. Or high-end brand sports backpacks.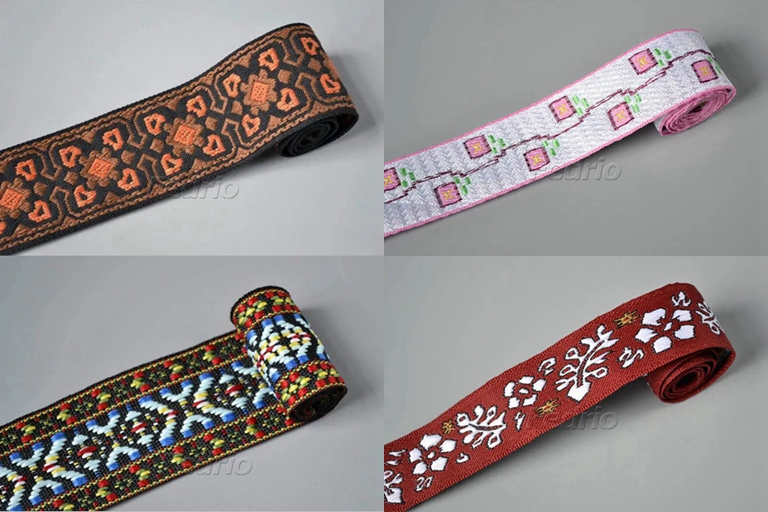 Material
Polyester/nylon/polypropylene/acrylic yarn, PP thread, etc.
Features of jacquard ribbon
The appearance of the jacquard ribbon is vivid and exquisite.
The brand logo on it is clear.
Its color is rich and bright.
The patterns on the ribbon feel smooth.
It is durable and wear-resistant.
The jacquard ribbon has a delicate, soft, and unique texture.
The width of the jacquard tape is not limited. And we can customize it according to the sample.
Scope of application
The jacquard ribbon is suitable for high-end clothing materials or decorative materials. Such as curtains, and sofa fabrics. But, the production process of it is complex. The warp and weft threads will intertwine to form different patterns. And it can weave many beautiful patterns. Such as flowers, birds, fish, insects, and beasts. Whether your theme is trendy, elegant, retro, or stylish, we can use it in any theme-related project.
Jacquard ribbon types
Nylon jacquard ribbon
Nylon jacquard ribbon is the highest grade webbing available today. It adopts popular and trendy webbing skills. Both single-sided and the double-sided ribbon is okay to make beautiful patterns. Nylon jacquard webbing is ideal for middle and high-end brand products. Such as luggage, leather goods, bags, pet belts, and waistbands, etc.

Computer jacquard ribbon
The pattern structure of computer jacquard webbing is more complicated. And the appearance has patterns or text. Then, it is the most high-grade and durable webbing at present. Besides, its pattern is meticulous and will never be deformed. In addition, it feels good in touch. Moreover, we support custom products with samples and drawings. Any size, color, and pattern are possible. For online products, please turn to the stock jacquard ribbon.

Rope edge jacquard ribbon
Rope edge jacquard ribbon is a combination of ribbon and rope. It is a fusion of 2D and 3D. Meanwhile, it can break through traditional crafts. And we innovate from the six major elements. Like material, technology, color, plane modeling, 3D modeling, etc.