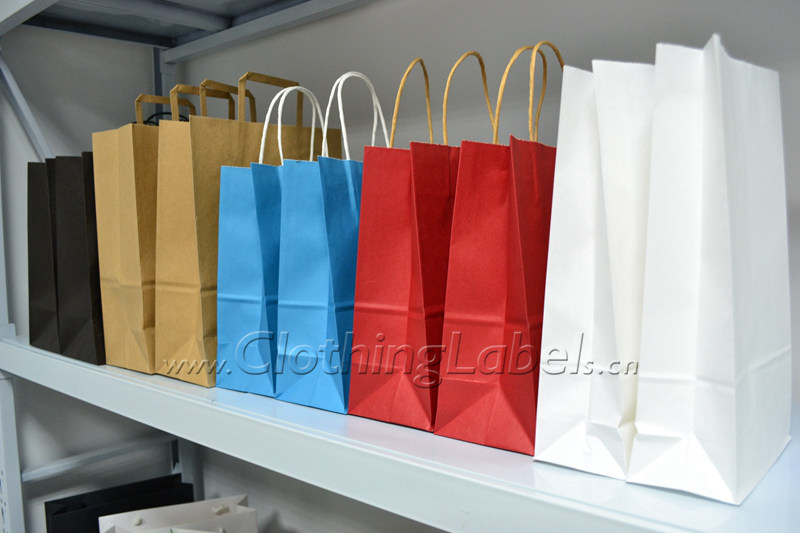 Shopping paper bags are bags with handles used for customers carrying home their purchases, here are custom shopping paper bags allowing for logo printing. They have become prevail not just with apparel business and gift but also a cross-section of all retail stores including thrift stores, boutique shops, book stores, and even takeaway shops.
The shopping paper bag has a square bottom and rigid structure that allow easy standing. With its rigid structure and handle, it is also used as a grocery bag. Made from strong heavy-duty paper, it safeguards the contents within. Besides, it is also considered an upgrade from the plastic bag. These bags are practical and cost-effective. They are perfect for distributing goodies at tradeshows, conferences, and other events.
Images of shopping paper bags
Click to see more pictures
Why choose the shopping paper bags?
Give upscale feel
An ordinary product with the right packaging bag will look high-end, increasing consumer goodwill and trust. Glitter or metallic paper shopping bags increase product value.
Earth-friendly
Most of the shopping paper bags are reusable and recyclable. The recycled category has both brown and white kraft shopping paper bags. They are popular for cost, recyclability, as well as functional look. Customers are happy to reuse paper bags with beautiful designs.
Get promotion
Firstly, It creates a strong first impression. Customers who buy your items going out with your shopping paper bag is a walking signboard. Others might notice your beautiful bags and become your customers. In this way, it helps attract new customers and encourage customer loyalty. In addition, it tells that a whopping 83% of customers would share an image of a package via social media if it is branded. That's to say, It also facilitates repetitive sales.
What you can get here?
To create the best impression among your customers for every sale you make, we offer you custom shopping paper bags. We are proud to carry 100% recycled shopping paper bags. We also carry solid color options and metallic and glitter collections that have a wonderful assortment of bags that shimmer and sparkle in the light with tones of metal. You may get your logo and pattern on them. We have different handle options including ribbon handle, rope handle, twisted paper handle, and flat handle.
There is also an ideal way to increase the beauty of your shopping paper bags. That is decorating it with wrapping paper(tissue paper). It can also elevate your packaging to a boutique level easily by adding your logoed tissue or a pretty print without costing too much expense. Order our custom shopping paper bags in bulk!