We provide custom hang tags printed with string and logos for clothing brands, materials have paper, leather, fabric, metal, plastic PVC rubber & silicone, TPU. And paper material for the custom hang tags can be green, eco-friendly and 100% recyclable. In addition, we can print various personalized unique brand logos. Color can be single, two side printing, or full-color printing. Then, a printed, raised/embossed, engraved, gold/silver/bronze stamped, UV, foil, film (glossy or matte) logo printing is okay.
There are many shapes of hang tags for you. Such as squares, rectangles, die-cuts, and circles. But there are also folded, triangular, five-pointed stars, hollow, or special-shaped. And the personalized swing tag can display product information and enhance the brand image. Any shape, size, color, material, and type are available.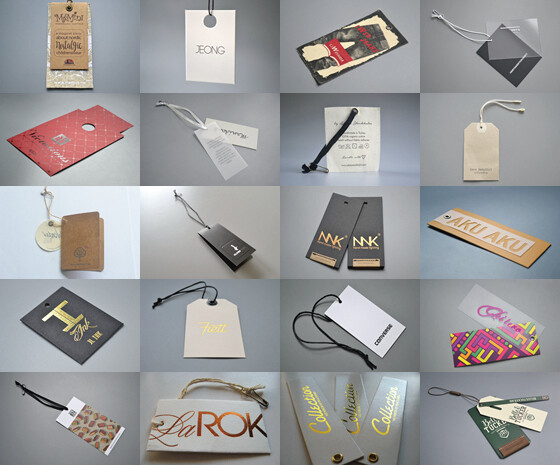 Detail of custom hang tags
Promote Brands
The custom hang tags & labels we wholesale come in many shapes. Such as rectangular, diamond, five-pointed star, round, square, etc. You can choose one shape that suits you according to the positioning and overall effect of your product. Custom Hang tags round out packaging and branding for any product. It appears in a unique way of hanging, which is not only for displaying product details but also for promoting the company and products more professionally and effectively.
Materials
The choice of materials will determine the overall feel of the custom hang tags design. With a variety of high-quality paper stocks to choose from, we will make sure you get exactly what you need. They mainly include coated paper, white card, black card, tracing paper, kraft paper, etc. We have the confidence to put your tags handle with the help of Engraving, embossing, printing, hot stamping gold/silver, UV. If you plan to tie on your own strings, we can also add an eyelet to your custom tags.
Application
Widely used for clothing, gift & retail, shoes, bags, jewelry, electronic product, etc, now sticker hang tags are also popular.
Price
The price of a custom hang tag depends on many factors. Such as order quantity, size, whether to print logo or pattern, printing color, and printing process. The more the quantity, the lower the unit price. And the smaller the quantity, the higher the unit price. The unit price of 1,000 or even 10,000 tags is much lower than the unit price of 100 tags. When other conditions are equal, the more color, the more expensive the price. The more technology, the more expensive it is.
Custom Service
Please send us your email with all details of custom hang tags for clothing, including artwork, size, quantity, your destination, and our style number. Meanwhile, please advise whether you need us to make the tags sample or not firstly and whether we need to send you the sample for approval or not once finished. We will quote you the price once you receive your details about the product.

How to choose the paper for custom hang tags?
This can be matched according to your brand clothing style. For denim, you can choose thick kraft paper hang tags. And for fast-moving consumer goods, you can choose 350G coated paper or cheap white cardboard hang tags. But, for luxury brands with high-quality requests, you can choose special paper hang tags. We can add texture and pearlescent design, which looks more upscale.
FAQs of custom hang tags
1, What is the MOQ?
– 100pcs.
2, What is the bulk production time?
– 7-13 business days.
3, What is the shipping time?
– 3-6 days by express.
4, What is the material?
– coated paper, white card, black card, tracing paper, kraft paper, special paper;
5, What logo style is available?
– Engraving, embossing, printing, hot stamping gold/silver, UV.

6, What colors can be printed?
– It can be printed in many colors based on PMS.
7, What profile is needed when production?
– Please send logo artwork in CDR, ESP, AI, or PDF format.
8, Is sampling available?
– Yes, the sample charge will be US 20$ – US 50$ without a freight charge
9, Are strings included in hang tags?
– No, we don't include strings with the tags. Learn more about hangtags strings.
10, Can we match the eyelet and string on hang tags?
– Yes.
Quotation:
Reference sample from custom hang tags' photo gallery or other places.
The quantity: our MOQ is 100pcs.
You can offer your logo or get our help.
Contact us by Email or WhatsApp